Get your Cloud Chasing Game on with these Amazing Flavours
May 23, 2023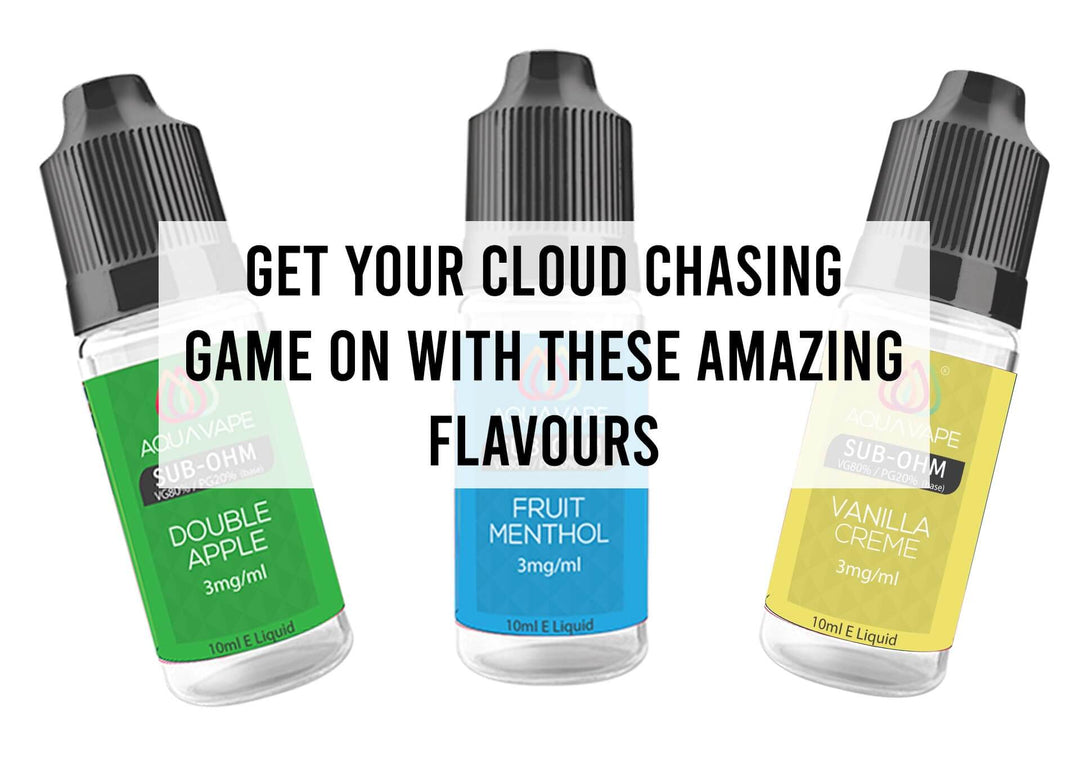 There are all sorts of vapers out there – cloud chasers, flavour chasers, and everything in between. All are looking for an experience that satisfies their vaping needs. For those chasing massive plumes, there are a few things worth keeping in mind. First, if you really want gigantic clouds, you will need the right device. For most ordinary vapers, a good mod or sub-ohm device will do the trick. In addition to the hardware, those clouds are only possible if you pair the device with the right e-liquid. By the right e-liquid we mean a juice specially made for sub-ohm vaping. The composition of e-liquids usually involves four ingredients:
Propylene glycol
Vegetable glycerine
Flavour
Nicotine (optional)
Propylene glycol (PG) is a thin colourless, odourless, and flavourless substance that plays the important role of providing throat hit. It is a good carrier of flavour and it also dials back the sweetness present in vegetable glycerine to achieve flavour accuracy. Vegetable glycerine (VG), for its part, is the portion of e-liquids that is responsible for producing vapour. Due to its naturally sweet taste, it also bestows a certain sweetness to e-liquids, so juices heavy in VG tend to have a sweet tinge to them, even sans the flavour. Speaking of flavour, this is a diverse field that is the reason we have thousands upon thousands of different e-liquid offerings in the market. The nicotine is optional. Now, our interest here is the ratio of VG to PG. That's because for a juice to qualify as a sub-ohm juice, there are certain criteria it needs to qualify; specifically, the VG content needs to be higher than the PG. The VG:PG could be in the ratio of 60:40, 70:30, 80:20, or even pure VG (100%). Unless you are partaking in a cloud chasing contest, you don't really need the 100%VG which is big on vapour but falls short on every other aspect – flavour and throat hit included. If you are interested in lots of vapour without masking the flavour, the 70/30 VG/PG seems to be the sweet spot. 80/20 VG/PG isn't too bad either, although flavours in this ratio are more nuanced. With that disclaimer out of the way, let's share three of our favourite juice blends from the AquaVape sub-ohm range we bet would be a major hit with any cloud chaser out there.
The Double Apple (AquaVape)
If you love your apples and are in the market for a good sub-ohm juice, find out why the Double Apple from AquaVape is the go-to choice for vapers who swear by fruity flavours. It marries the sweet taste of red apple with the crisp, slightly tangy notes of green, culminating in a full-bodied apple flavour that slaps really well. The AquaVape Double Apple is compatible with both sub-ohms – for example, the Innokin CoolFire Mini range – and pod mods such as the brand's refillable pod system that is the Click & Vape. Its 80/20 VG/PG mix promises thick and -dense clouds.
Fruit Menthol (AquaVape)
AquaVape is famed for its Menthol e-liquids that have been voted some of the best in the UK. And now they have something every cloud chaser will appreciate: a unique blend of menthol infused with your favourite fruits. If you are a menthol enthusiast, you will love everything about this juice, from the flavour to the clouds courtesy of its high VG ratio of 80/20. Available in a 3mg nicotine content, the AquaVape Fruit Menthol also pairs well with the Coolfire Mini range and the Click & Vape.
Vanilla Crème (AquaVape) For many of us, vanilla is the one flavour we really can't do without. If you are a vanilla enthusiast, AquaVape's Vanilla Crème is an absolute must, make no mistake. The sub-ohm juice boasts an unerring taste of the finest French vanilla beans, providing for a rich, scrumptious flavour that is certain to hijack your taste buds. Available for purchase in a 3mg nicotine level, this is an 80/20 juice, so it ticks the vapour production checkbox nicely. Like the other two AquaVape offerings, this too works perfectly with most coils below 0.8 ohms, including the Mini CoolFire and the Click & Vape. If you are a cloud chaser looking for some taste-provoking juices that ace it on the vapour production aspect, you really cannot go wrong with either of these! 
Share This