What is a Box Mod?
May 22, 2023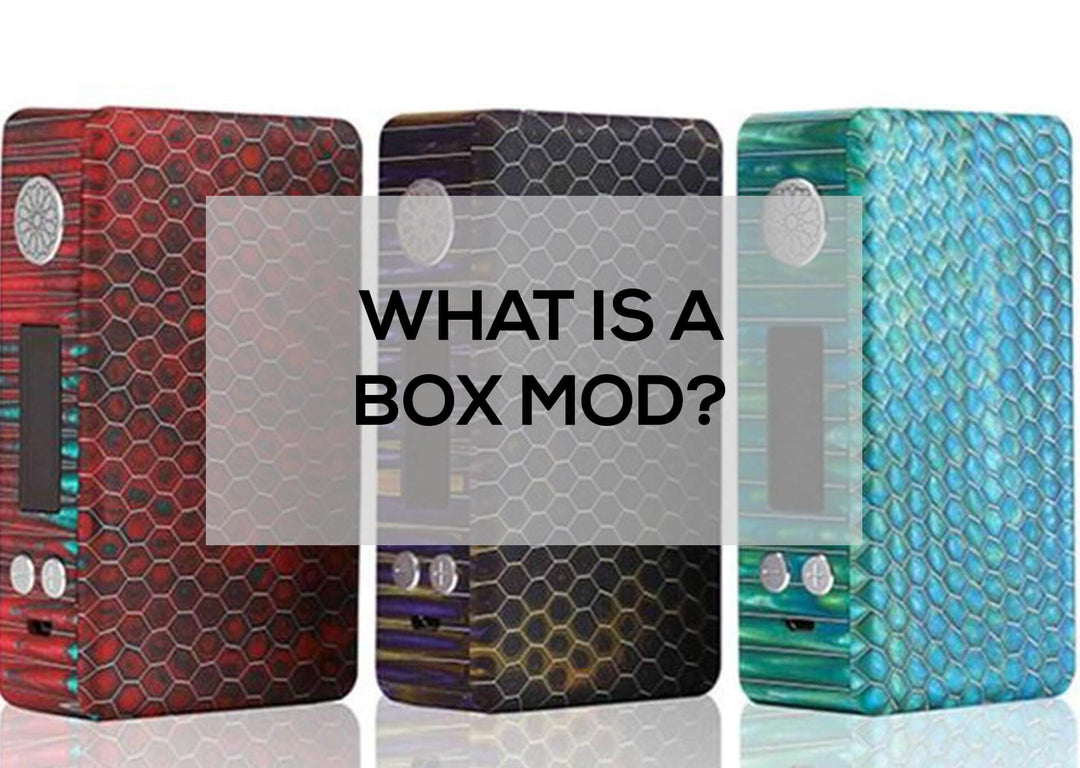 The world of vape is made up of different kinds of devices. Mods usually are the most advanced of the lot, and they got their name from the ability to 'modify' them and fine-tune your vaping experience. That was many yonks ago before vaping became popular. Over time, the term 'mod' has evolved to mean an advanced form of vaporiser that offers more customisation and battery power than smaller vaporisers are capable of. It is good to get this out of the way first – box mods, and mods in general, are not devices made for regular vaping. Rather, they are used for sub ohming, a type of vaping synonymous with lots of vapour production. You can think of it as cloud chasing, although clouds are not the whole story. Mods come in different types, and two of the most common are mechanical mods (mech mods) and box mods, our subject for the day.
Understanding Box Mods
Box mods got their name from the box-like shape they assume. They are the more modern type of mod that unlike the mods of yore, do not require you to cobble them up from scratch. They ship pre-made and ready-to-use as is, although they allow you to swap different types of batteries, tanks and atomisers. If you desire customisability in a vaporiser, look no further. A box mod gives you options in that you can tailor your vape to match the mood and experience you want at any given moment, from varying the throat hit intensity, to alternating between different sets of atomisers, and so on. However, a box mod is still a vape device at the end of the day, and as with all vape devices, its workings are no different. It features a battery inside, albeit a more powerful battery. This battery heats up a coil, although box mod coils are low resistance, or below one ohm (hence the term sub ohm). This low resistance or sub ohm coil is located inside of an atomiser attached to the box mod. When you fire up the device, the battery heats the coil which in turn heats up the juice to create vapour. The process could differ depending on the type of atomiser hooked to the box mod. E-liquids used in box mods are different too; they are typically high VG juices, aka sub ohm e-liquids.
Benefits of using Box Mods
So, are there benefits of using a box mod as opposed to other vaporisers? Plenty. Here is a summary of what makes box mods a different proposition:
Regulating Temperature (aka Temperature Control)
Temperature control (TC) is one of the best features of box mod vaporisers as it allows you to fine-tune your vaping experience to your individual preferences. For starters, TC eliminates the nightmare that is dry hits, so it is not surprising this is one of the most celebrated features of vape hardware. This is a big deal and not just in the sense that TC eliminates the nightmare that is dry hits: flavours taste different too with temperature control. There are those that taste better at a cooler temperature, others unlock best at warmer temperatures. In fact, if you got used to vaping with temperature control, it would be hard to appreciate anything less.
Adjustable Wattage and Power
Not all vape devices give you the option to control the wattage. Wattage is the power channelled from the battery to the atomiser. It affords you more customisation options with regard to how intense of a throat hit you get, the amount of vapour you harness per hit, and how the flavour tastes. In other words, it has an effect on the three most important vaping aspects: throat hit, vapour and flavour.
While they are more powerful than the regular vaporiser, box mods are also packed with a more powerful battery which should last you through several sessions without having to fret about charge.
As you may be aware, not every device is designed for sub ohming. For most people, sub ohm vaping is the primary purpose of investing in a good box mod. These units are big on vapour production so are must-have equipment for those who love a big cloud. But sub ohming is not all about thick plumes of vapour. It also makes it possible to sample vape flavours in all their glory. The good thing with sub ohm e-liquids is that most come with zero-nicotine flavour options, making them suitable even for anyone who isn't in it for the nicotine. And there is an upside to it – nicotine-free e-liquids tends to be the most flavourful.
Share This