What Are The Different Types Of E-cig Devices?
May 27, 2023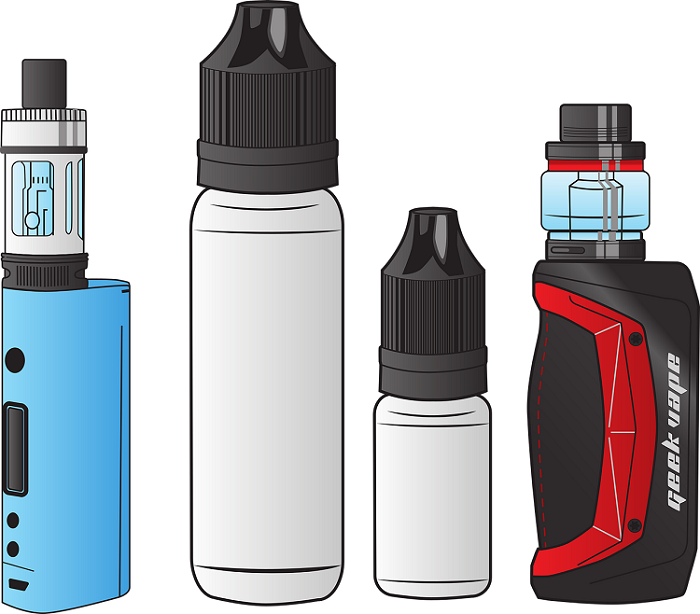 Looking at it from a smoking perspective, it's fair to say vape devices have been a blessing to people, and some will say, the environment too. The dangers of smoking are known to all and sundry, so having a healthier substitute to a habit regarded as the single-biggest cause of lung cancer worldwide (and attributed to a host of other diseases and conditions) can only be a good thing. The thing about vaping, though, is that it is not a pastime for smokers only. Vape e-liquids are also available in nicotine-free variants which make it possible for those interested in vaping for the social aspect of it or the delectable flavours to vape without the risk of getting addicted to nicotine. What's more, if you have a sweet tooth or wheat addiction and find it difficult to keep off the tasty treats, the availability of sweet vape flavours and their dessert counterparts allows you to quell your cravings without overdoing the calorie intake. It's not exactly the same obviously, but it helps if you are determined to keep those pounds at bay. Vape devices also differ from traditional cigarettes in that they come in a range of options unlike cigarettes which are only available in a standard format. The different types of vape devices cater to different needs, and having options has never been a bad thing.
Forms Of Vaping Styles
All types of vape devices fall under two groups:
Mouth-To-Lung (MTL) Devices
Mouth-to-lung devices have an inhalation style similar to regular cigarettes in that you draw the vapour and hold it in your mouth first before inhaling it into the lungs. While it's not the primary intention, MTL vaping allows users to get a feel of the vape flavour with each draw before exhaling. It is the default inhalation style for most people. Mouth-to-lung devices are designed for regular vaping, from the tip to the bowels of the atomiser system. They produce smaller clouds and pair best with regular e-liquids, although the emergence of refillable nicotine salt e-liquids means they can also be used with the latter. MTL devices are best suited for nicotine users and non-nicotine users who prefer a more subdued experience. MTL devices mainly include vape pens, pod kits and the more recent disposable vapes.
Direct-To-Lung (DTL) Devices
The direct-to-lung devices approach skips the part where you momentarily hold vapour in the mouth and instead inhale the vapour from your e-cig straight into the lungs. This form of vaping is characterised by huge amounts of vapour and can take time to get accustomed to. Due to their stronger hits and a generally harsher vape compared to MTL devices, DTL vaping is recommended for seasoned vapers. DTL e-cigs are basically sub-ohm devices (think mods and pod mods), meaning this form of vaping works with sub-ohm e-liquids (juices with a higher amount of VG vs PG).
Types Of Vape Devices
Now that you know the different styles of vaping that exist and the devices that fall under each, let's look at the different types of vape devices available. As you probably found out at first, choosing a vape device is not a straightforward affair. The market is saturated with all types of e-cigs and it can be difficult to tell this from that. Thankfully, all these devices can be divided into distinct categories. They include the following:
Cig-A-Likes
Cig-a-likes are those e-cig devices that have an uncanny semblance to regular cigarettes, complete with the glowing end. They were the first generation of vape devices and are the quintessential electronic cigarette in terms of form and design. Cig-a-likes have drastically reduced in popularity and are not as readily available as they once were. That's because they do not provide good overall satisfaction despite the looks and most people have found them to be ineffective substitutes for cigarettes. While it's easier to find these devices in the UK, they are almost obsolete in some countries, including the US.
Vape Pens
Vape pens are e-cig devices with a design that resembles a ballpoint pen, only larger and bigger in width. They boast stylish aesthetics that are a huge draw for most, but looks aside, vape pens are also loved for their experience. These are effective vape devices especially for smokers who desire a practical substitute for tobacco cigarettes. But that's not to mean they are a reserve for smokers only. They are also loved by non-nicotine users and the fact that they are not only refillable but also able to accommodate all types of e-liquids – freebase e-liquids and nicotine salts – helps. Since these are MTL vape devices, though, the tanks are not designed for sub ohming. In addition to a refillable tank, vape pens have replaceable coils and are arguably the most cost-effective type of vape device. They are largely credited for transforming the vape industry from the underwhelming days of cig-a-likes and are possibly the most popular e-cig device out there.
Vape Mods
Also known as advanced personal vaporisers, vape mods are the most powerful type of e-cigs. They are like vape pens on steroids. They come with refillable tanks and interchangeable parts and use replaceable coils, but more powerful and advanced. That's because vape mods are DTL devices designed for sub-ohming, so they characteristically pack more features (and power) into them. Mods also afford users more control over their vaping experience through a set of customisability options. While that may sound all nice and dandy, these e-cigs are not for everyone. In fact, the experience of a mod may be off-putting to some as it typically involves inhaling huge amounts of vapour and is typified by stronger hits and huge clouds. They provide an extended battery life than vape pens and are more durable, but they are also the most expensive type of e-cig device.
Pod Systems
Pod systems are compact little devices made with portability in mind. The original pod kits were closed systems, meaning they could not be refilled or have their coils swapped. The Innokin Klypse and AquaVape Click & Vape are good examples. Closed pod devices are still around, but the segment has witnessed changes over the years and today we have open pod kits that can be refilled like an ordinary vape device. Most modern open pod kits such as the Innokin MVP and Aspire AVP pod vapes (while kitted with built-in coils) are not restricted to just nicotine salts and can be paired with freebase e-liquids too. This segment has also seen the introduction of the pod mod, a DTL vape pod kit that acts as a mod, only in a smaller, more portable size. Pod mods are powerful little mods that can you can take with you when you want to cloud vape but do not want the inconvenience of carrying a fully-fledged mod. The SMOK RPM 100 and Orchid Vape Orchid Pod Kit are excellent examples in this category.
Disposable Vapes
Disposable vapes are the latest type of e-cig and are currently the hottest product in the market. If pod kits were the epitome of vape convenience, disposable vapes have taken it to a whole new level. Disposable vapes come ready-to-vape. They neither require any setup, nor do they involve any learning curve whatsoever. Just remove the kit from the package and start puffing away. As the name suggests – and the aspect that differentiates them from pod kits – is that once the pre-filled e-liquid in the device runs out, that's it: toss the device away and grab a new one. Sure, as much as you should be disposing of responsibly, these are not the eco-friendliest vape kits and can be a disaster for the environment. Not very cost-effective either. Disposable vapes are available in a wide range of vape flavours, depending on the brand and kit.
Share This