Vaping in Public: Can you Vape in Trains and Buses in the UK?
May 23, 2023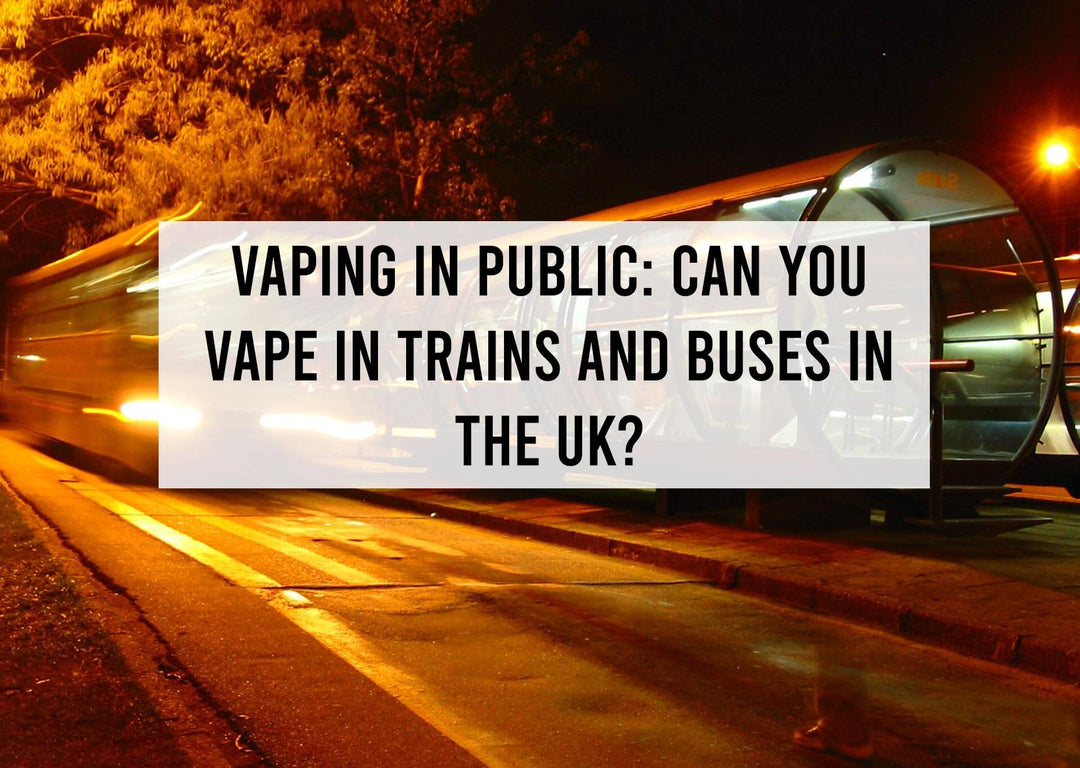 Many years ago, smoking cigarettes on trains and buses was considered a norm. The negative effects of passive smoking were not largely known in the 1970s and '80s, and smoking in public was not something that was considered out of place. So much so that you looked out of place in some places if you were not a smoker. As the ill effects of secondary smoke became more widely known, however, many bus and train companies began introducing smoking sections and carriages, although this did not deter cigarette use on public transport much. Anti-smoking activism became more prevalent in the late '80s and '90s, and many bus and train companies went the extra step of banning smoking on board. Surprisingly, though, it was not until as recently as 2007 that an outright ban was put in place, and that's roughly the period we started seeing a ban on smoking in indoor public spaces. This indoor smoking ban made it illegal to use any tobacco products in all indoor spaces, be it at work, on planes, and even in pubs. While this law does not extend to electronic cigarettes, that doesn't grant you a wild card to vape wherever and whenever you feel like it. Here are what vaping laws in the UK say about e-cig use in trains and buses.
Can you Vape on a Train in the UK?
When vaping became a thing in the UK circa 2010, as with regular cigarettes before it, vaping on trains was widely accepted. As the culture took hold and e-cigs became a popular smoking alternative, though, train companies started enforcing their own bans. This was designed to avoid confusion as to whether some passengers were actually smoking or using electronic cigarettes – not to mention, for the common good. But it was not until the summer of 2015 that every train company issued a vaping ban on trains, a ban that also extended to train stations. Below is a list of train companies that do not allow the use of e-cigs on-board and at their stations:
TFL (Transport for London)
Eurostar
Northern
Virgin Trains
Great Northern
Thameslink
Gatwick Express
London Midland
South-eastern
Southern Railway
ScotRail
Just to be sure whether the train company you are travelling with allows vaping, you can confirm on their website.
Can you Vape on a Bus in the UK?
Just like vaping on trains, it is not illegal to vape on buses in the UK. However, most bus companies have issued their own bans for the comfort of non-using passengers. A list of bus companies that prohibit vaping on board include, among others:
TFL
National Express
Arriva
Stagecoach
It is unlikely these days to come across a bus company that allows vaping on-board. But we recommend confirming this with the bus company or simply enquiring from the driver about their stand on vaping. That's because vaping policies differ from one company to the next. For example, Transport for London prohibits the use of vape devices on-board its buses as well as the London Underground. We are not ruling it all out – there are operators who have an open policy, so you can always double-check with your local bus whether you can use your e-cig device on-board.
Share This