Shopping for the Best Vape Kits UK? Shop with AquaVape
May 22, 2023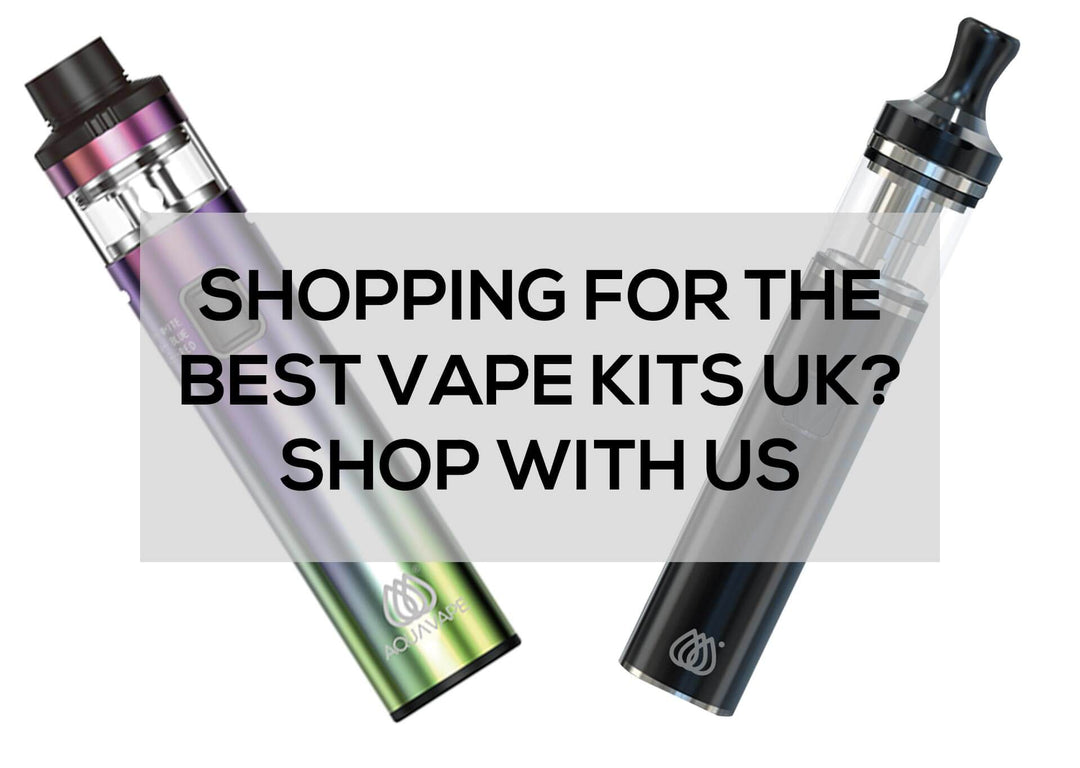 We know, choosing the right vape equipment can be work. That's because unlike regular cigarettes which are pretty much standard, there is a lot to think about when it comes to vaping. In addition to scouring a market littered with options for the best device for your vaping needs, there is also the accessories to think about. Which need to be compatible, mind you. At AquaVape, we help make your buying decision easier by offering you a variety of hardware options based on need, tastes and preference. Whether you are in the market for a vape pen for regular vaping, a smoker looking to make the transition with a pod vape, or just for the fun of blowing clouds with a mod or sub-ohm, we have something for everyone. We also stock a plethora of vape components and accessories ranging from tanks, to batteries, to clearomisers, glassomisers, USB chargers and more.
Vape Starter Kits
Vape starter kits are complete kits that come with everything you need to get started on your vaping journey. Whether it's a pod system you need, a vape pen, or mod for sub-ohming, most of our starter kits come with the device, its associated accessories, and a few bottles of e-liquid thrown in for good measure! This way, we are able to simplify your buying process by having everything together for you so you don't have to buy these components a la carte. In addition to stocking old classics that never go out of style, we always stay on top of the industry by periodically replenishing our range with the most modern kits gracing the market. 
Guest Brands
On top of our in-house vape products, the AquaVape store has a dedicated section for items designed by some of your favourite manufacturers. We have teamed up with major brands that include:
Innokin
Aspire
SMOK
VooPoo
We love the idea of providing our customers with options when it comes to the choice of their vape hardware. Life it too short to die on one hill. Plus, we don't like putting vapers in a box. We are all individuals in own right, you see, and our preferences differ. Irrespective of where your tastes lie, you can be sure we have a device (or two) suited just to your unique tastes.
Why Buy your Vape Kits at AquaVape?
We carry an extensive range of vape kits targeted at all vaping levels, from beginners to seasoned vapers who have been in the game for years – and everyone in between. Our starter kits come with all the accessories you need to get started on your vaping journey. We also understand that not everyone can be trusted to deliver authentic hardware that guarantees good service without having to replace this or the other part, or worse still, going back to your pocket to replace the entire device after a few weeks of service. Quality kits save you money while ensuring they are not a potential physical hazard to you and those around you. But quality kits don't have to cost a lot too. It's not 2010 anymore, and this is reflective in all our offerings and their corresponding prices. If you are still not sure where to start, by all means, feel free to reach out to us and we will help you find the best vape hardware that meets your circumstances. We are here to help make your journey into vaping as seamless as can be and will offer as much guidance, help and support as we can!
Share This