New to Vaping? 4 Things to Consider Before Buying a Vape
May 23, 2023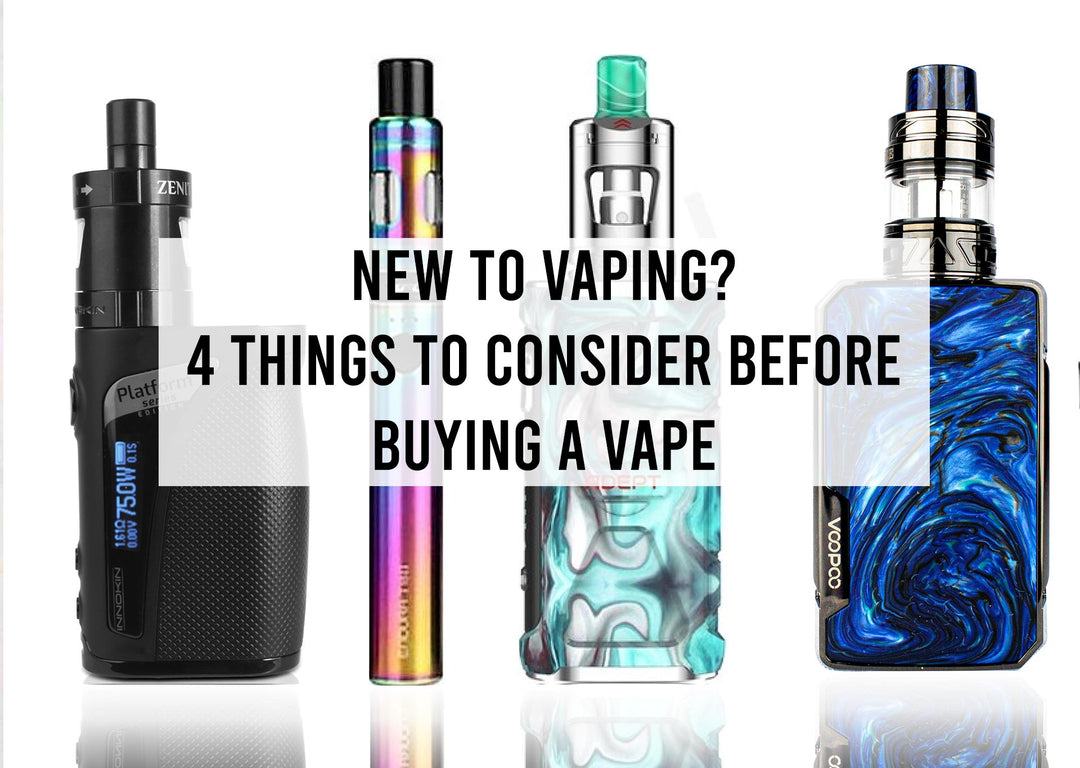 If you have been contemplating about taking up vaping, then you will find plenty of fish in the sea. In the UK alone, there are more than three million active vapers, according to the National Health Service. It is probably the fish in your circle that have managed to convince you that there are advantages that come with vaping. Or you've read or seen it somewhere. Whichever the case, vaping today is kind of a big deal. From simple electronic cigarettes that resembled regular cigarettes in look and feel, vaping hardware has evolved for the better. Indeed, it is this evolution that is to be credited for the rapid growth of the industry. That's because the cig-a-likes in question were not all that, and to say the truth, they were pretty underwhelming. So it was not surprising that many who tried quitting cigarettes with these devices hit a snag and found themselves reverting to old habits. But the modern electronic cigarette in the shape of the vape pen, mod, or pod, has been found to be an effective method to quit smoking; almost twice as effective as nicotine replacement products. That is according to a ground-breaking study published in the
New England Journal of Medicine
in 2019. Anyway, for anyone thinking about getting into vaping, you know it can be a bit overwhelming (if not intimidating) to learn about all the vape components and accessories. There is a lot to cover when it comes to the basics of vaping. Today, though, we'll just highlight some of the main things that will aid your acclimatisation in the wide world of vape so you can avoid coming across as a total noob. Think of this as an extension of that earlier post we did about the things you need to consider when choosing your first device. Without much ado then, here are four things you need to keep in mind when ordering a vape.
Pick your Type
First question – what do you want to vape? Is it normal e-liquid? Or CBD oil? Herbs perhaps? Or wax? Vaping offers a variety of choices on what you can vape, so choosing what you want to vape is a good place to start. That's because answering this question will cut your choices in half. Sure, there are vapes that can take different substances, but chances are you will opt for a particular type. Normal vape juice is a great starting point for nicotine chasers and ex-smokers. From here, you can try out the different kind of e-cigs, be it vape pens, mods, or pods.
Prepare for Maintenance
Vape hardware is no different from any other device you use often – the moving parts will need to be replaced at some point. In this case, one component that needs regular swapping is the heating element (aka coil) which wears down over time. Here's a good guide on how often you need to replace your coil based on usage. An easy-to-use tank is recommended for beginners, and our UK online store has plenty of replacement coils to suit every device. Don't be afraid to ask if you are not sure which coil goes with which device.
Portability
If you are often out and about or prefer to vape on the go, portable gear that is convenient to use and not cumbersome to haul around would make for a better option. Most pod vapes fall into this category. For something a bit more serious for use when at home, a mod is a good fit. A vape pen can be ideal for both situations, depending on how long you'll be out for those instances that you venture outdoors. There are advantages and disadvantages to using each one.
Vape Where it's Legal
The fact that vapes do not emit the traditional smoke like in the case of combustible cigarettes and cigars does not mean you can use them wherever and whenever you want. As vaping has caught on globally, several measures have been introduced by local and national governments the world over regarding the use of e-cig devices. In the UK, for example, vaping is generally prohibited in airports, train and bus stations, as well as on board. Multiple establishments like restaurants, bars, and workspaces, have also introduced their own rules surrounding vaping. Don't forget to consult the policies of the area, building, or establishment you find yourself in before firing up your device.
New to Vaping?
AquaVape provides plenty of starter kits at very attractive prices, so if you are looking for a good deal, check out our store for all hardware and vape kits. If you need assistance, we are always at your beck and call. Happy vaping!
Share This