Make Huge Savings on Vape Juice
May 22, 2023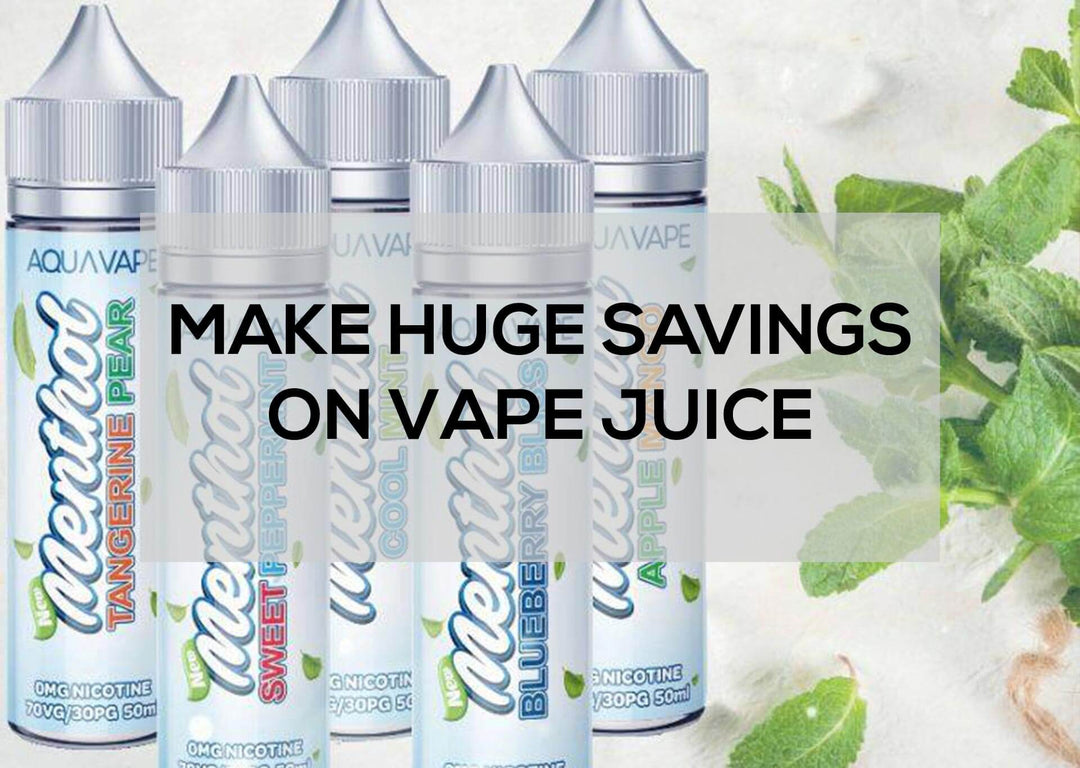 We, Team AquaVape, couldn't be more pleased that we continue to be your top choice for online e-liquid purchases in the UK. From humble beginnings just a little under ten years ago, we have grown into a top e-liquid vendor in the UK with products that have earned rave reviews through the years, bagging several accolades along the way too.
With us, You Know What You're Getting
Our customer base has burgeoned into figures we didn't imagine possible at inception. But that's primarily because we strongly believe in offering vapers across the board something that is a cut above the rest, no easy feat in an industry crammed with brands and e-liquids galore. At the same time, that has also seen us strike the tricky balance between quality and price, an often elusive one for many a manufacturer, least of all UK-based. While there are some good ones, a lot of cheap juices out there fall off the mark when it comes to quality. Conversely, premium e-liquids manufactured in the UK can see your vaping costs really add up over time, rendering your vaping escapades an expensive pastime; almost unsustainable. Yet, you heard them say vaping is cheaper compared to smoking. So for us, establishing this balance is extremely important: that ability to deliver a world-beating e-liquid with every bottle, while at the same time maintaining a reasonable price that doesn't leave our customers feeling short-changed. It's a combo that has kept our customers loyal because you are never in doubt what you are getting with every drop of AquaVape juice. We do love hearing our customers waxing lyrical about our products (trust us, we do!) because that is how we know we are not sleeping on the job.
Easy Navigation
As vapers and online shoppers ourselves, we understand that a happy online shopping experience is not just about offering quality e-liquid at affordable prices. That is why we have made it super easy for our customers to search for and purchase their favourite e-liquid flavours online by having a user-friendly website that is easily navigable. Our search options are aided by simple categorisation of e-liquids, as well as providing a separate section for all the guest brands we offer. This way, it's easier for you to find what you're looking for and, maybe, even unearth a new favourite flavour and/or juice while you're at it!
Search by Type
Our e-liquids are grouped based on the vape experience you seek. Simply hovering over the E-Liquids tab on the Homepage presents you with a list of options that allows you to narrow down on the type of juice you want. We have Regular E-Liquids that cater to possibly the largest number of vapers out there: users of vape pens. These are 50/50 VG/PG e-liquids intended for normal vaping with your personal vaporiser. The Sub-Ohm and Shortfill section directs you to sub-ohm e-liquids made for sub-ohming and for use with powerful devices like mods. It also includes shortfill e-liquids that eliminate the need to buy your e-liquid in small bottles while making it possible to customise your own juice. We also have the Nic Salt category that presents you with multiple taste-tingling flavours that deliver an unparalleled nicotine satisfaction. These are perfect for smokers switching to vaping or anyone else who desires a higher nicotine concentration without compromising on their vape. The Guest Section also carries all these types of juices from our partner brands, so make sure to give it a peek.
Search by Brand
With dozens of e-liquid flavours under the AquaVape banner alone, our inventory is designed to cater to every taste. From tobacco flavour, to our much celebrated menthol juice and its multiple variants, candy to fruit, you will find them all in our store – all made in the UK in strict accordance with the vaping laws of the land. In addition, we stock exotic e-liquid flavours courtesy of award-winning brands from as far off as Malaysia. Anyone who has had the pleasure of sampling these unique juices will tell you they promise something a little different from the usual. In a good way. Whatever your fancy – fruit flavour, dessert flavour, breakfast flavour, or the more traditional experience of tobacco and menthol flavours – we more than got you covered. No matter the choice, every product you purchase from AquaVape is guaranteed in quality and comes at a reasonable price to ensure you remain a happy vaper.
Share This