How to Inhale When Vaping
May 10, 2023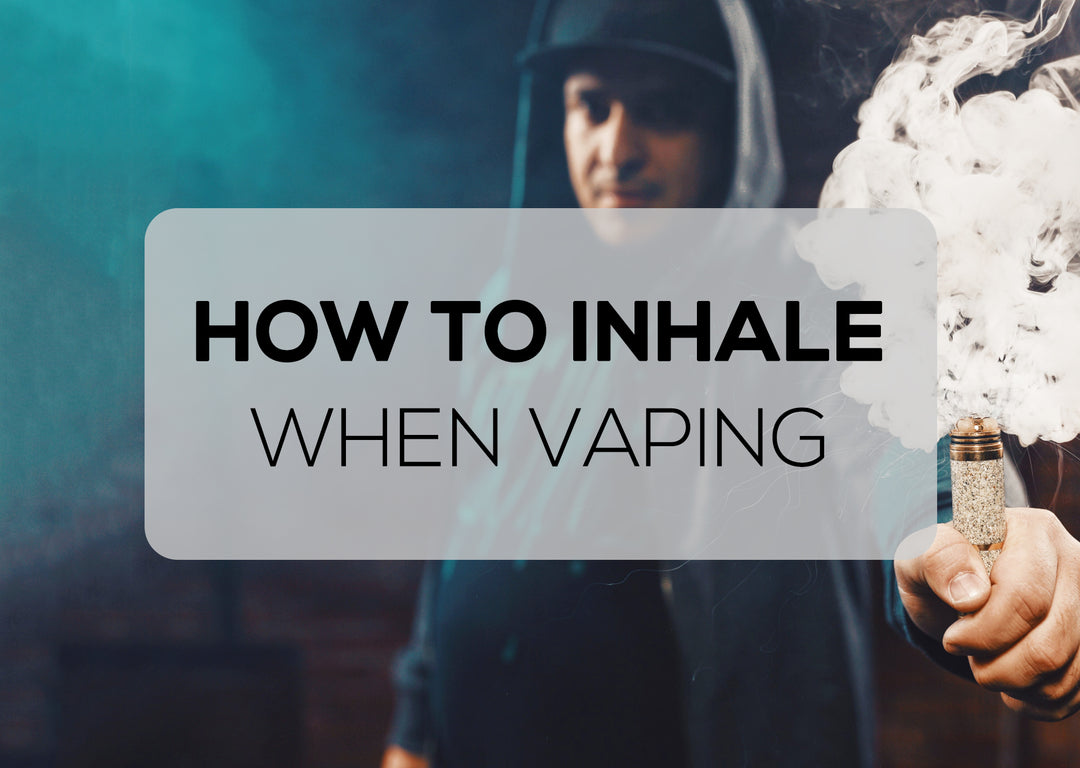 Vape Inhale Techniques
Vaping may not be the most complicated thing, but it's nothing as easy as smoking a regular cigarette, truth be told. The thing about cigarettes is that once you light one up, it can slowly burn down on its own without much input on your part. You would imagine something as mundane as inhaling would be easier than shooting fish in a barrel, but in the case of vaping, things work a little different and it takes some time to figure it all out. It's an important class you cannot afford to skip when starting out because when it comes to electronic cigarettes, a major part of enjoying a good vaping experience is learning how to inhale properly. Vape devices differ in terms of inhalation style. The good thing is that the thousands of different e-cigs you see out there can all be grouped into two distinct categories depending on the inhaling approach. These are:
Mouth-to-lung (MTL) inhaling kits
Direct-to-lung inhaling kits
Before we venture too far into the weeds, it's worth highlighting that the inhalation style is not a case of "either…or" for individual devices. The inhalation style you'll use is largely dependent on the type of device and vape tank. Generally, smaller e-cigs are intended for mouth-to-lung vaping, while bulkier, more complex vaporisers or tanks with more open airflow are designed for direct-to-lung inhaling.
How to inhale mouth-to-lung style
MTL vaping is not much different from smoking a combustible cigarette in that to inhale, you simply take a draw on your e-cig, hold the vapour inside your mouth for a few seconds before pushing it into the lungs. This inhalation style comes naturally for most people and is perfect for smokers making the switch to vaping. It also gives you more control over the vapour you're inhaling, which makes it ideal for new vapers as well. Despite the similarities between MTL inhaling and smoking, however, the physics involved are a bit different. In the case of regular cigarettes, it's possible to get bigger clouds of smoke by inhaling with more intensity. With an e-cig device, on the other hand, the amount of vapour you generate is determined by two things: your e-cig's power output and the efficiency of the coil in your atomiser. To get more vapour, you have to take slightly longer, deeper inhales as opposed to harder puffs (which can actually damage your vape coils). Devices with automatic (puff-based) activation typically tend to be mouth-to-lung, and these largely comprise of pod systems and disposable vapes. Others, like vape pens, are fired through a manual button, meaning you have to press the button and hold it in when vaping.
Pros of MTL inhaling
So, are there any benefits of MTL vaping? Of course. In a nutshell, these include:
MTL vaping is not much different from smoking, which makes it ideal for smokers transitioning into vaping
It's easier for beginners
MTL vaping uses less vape juice, which by extension makes it a more economical form of vaping
You're better able to savour the flavour since MTL inhaling allows you to momentarily hold vapour inside your mouth while also making use of 50/50 e-liquids which are more flavourful
Smoother throat hits as it's this makes for a less intense vape
MTL coils are better suited for pairing with high-nicotine e-liquids, including nicotine salts
It's perfect for users who prefer a more furtive experience since MTL devices emit less clouds
Devices made for MTL vaping are lighter and more compact, therefore a more portable option
Cons of MTL inhaling
As far as MTL disadvantages go, here is what you can expect:
MTL devices are not as powerful as their DTL counterparts
They are limited in terms of features
Less vapour means smaller clouds
Less battery life
How to inhale direct-to-lung style
It's easy to tell a direct-to-lung device by looking at its build. DTL e-cigs typically have a wider mouthpiece hooked to a larger refillable tank, in addition to large airflow vents. These e-cigs also have a manual fire button. But what does DTL involve exactly? As the name suggests, direct-to-lung inhaling involves drawing vapour from your e-cigarette straight into the lungs. You don't pucker up your lips on the mouthpiece like in MTL vaping but rather, inhale on the device as if you were sucking air through a drinking straw. Since the hits from a DTL inhale tend to be harder, most sub-ohm e-liquids (e-liquids used for this type of vaping) have a nicotine content capped at 6mg/ml. With a DTL vape, you are inhaling more nicotine per puff, so the lower nicotine strength doesn't matter. If it's your first time vaping or are a smoker transitioning into vaping, this is not the best option to start with. DTL works better when you get a hang of vaping (which should be after several months), especially when you consider that these devices are much more powerful. Even when making that step up, you stand to enjoy a better experience by starting off with 3mg nicotine e-liquid – assuming you're nicotine-vaping, that is; otherwise, zero-nicotine juice is always an option. This way, the sharp nicotine tinge is subdued and you get to enjoy more flavourful vapes. Plus, using less nicotine is also kinder to your lungs! Devices designed for DTL vaping mostly include sub-ohm kits and mods. These are high-wattage devices which are paired with low-resistance coils for withstanding higher temperatures. They have bigger air vents (with adjustable airflow) to aid in the creation of denser clouds – which is what most who opt for this style are after.
Pros of DTL inhaling
The benefits you can expect with this inhalation style include:
An abundance of clouds – the higher the VG, the denser the clouds
DTL devices afford you more control over your vape by packing more features and allowing you to tweak device settings
Wattage and temperature control (TC) modes make it possible to enjoy a more versatile vaping experience
Cons of DTL inhaling
DTL e-cig hardware is bulkier and less portable
Higher VG e-liquids are not as flavourful as those that contain more propylene glycol such as regular e-liquids
It is a costlier form of vaping as it guzzles up more e-liquid. But you can bring down your costs by adopting measures such as buying short-fill e-liquids vs smaller bottles. Still, there is more work involved with the mixing and all
These devices (mods and sub-ohm kits) require more maintenance
Share This