Hey AquaVape, What are your Thoughts on Buying Budget Vape Juice?
May 22, 2023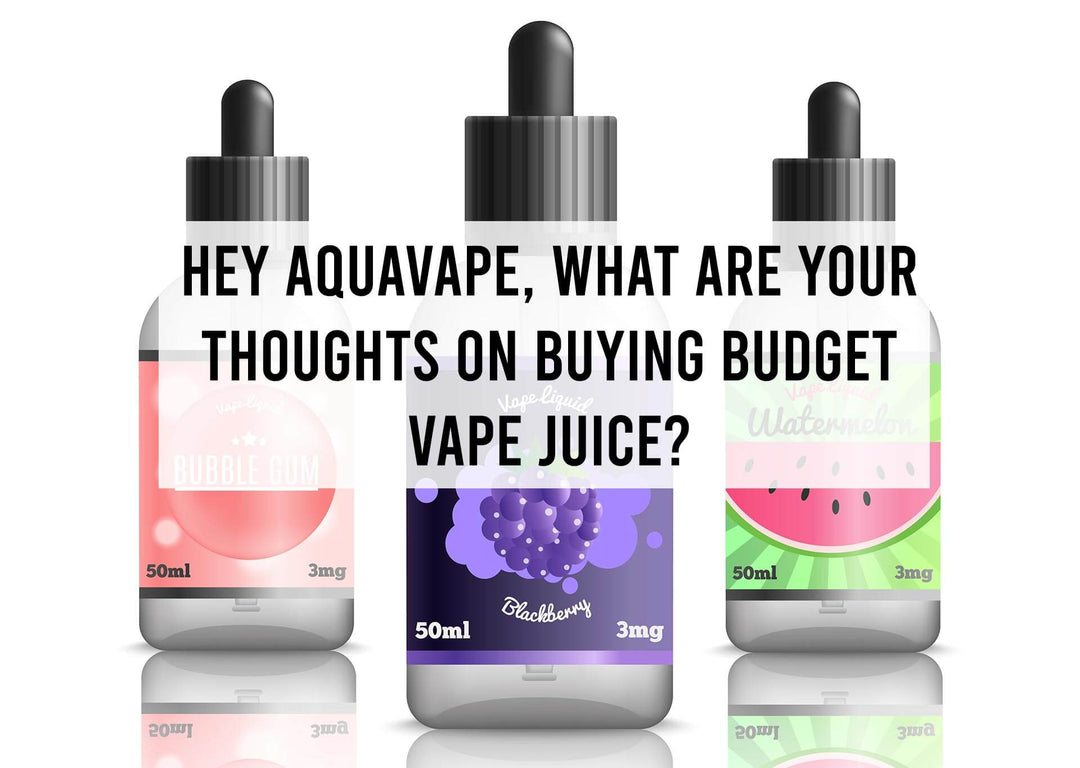 Good question. Everyone loves a good deal. And while budget e-juice might be pocket-friendly, it's a lot like make-up. Or tattoos. Some of those things you really shouldn't pinch pennies a lot on as the aftermath might not be too pleasing. As with much else in life, forking out less usually means getting lower quality in return. That life tip applies to e-liquid as well. For those who might be holding back on splashing on some good vape fuel, we have three reasons why going cheap might not be such a genius idea.
You can't really tell what's in it
One thing about lower quality e-liquid is that it doesn't care much for labelling. This means it is difficult to tell what exactly the juice contains. You could be using e-liquid from overseas manufacturers whose laws governing the manufacture of e-liquids are a bit lax. Sanitary conditions in the manufacturing facilities might also not be a biggie, let alone existent. Purchasing your juice from brands that are not concerned about labelling or consumer interests would therefore be shooting yourself in the foot. They lure you with lower prices with their eye on the bottom line without much regard to quality of product. It's not only irresponsible to give your hard-earned money to such companies when you think about your health, but in all honesty, a bit foolish. By contrast, reputable brands are keen to build trust with their customers and have a high level of accountability when it comes to their manufacturing standards.
Budget e-liquid does not taste or smell as good e-liquid should
Before vaping standards improved on the whole, there was a time the market was flooded with cheap e-liquids whose origin was not very clear. There was even a name for these e-liquids: arse juice. This mostly encompassed cheap products from China and other manufacturers who were more interested in turning a quick profit than the wellbeing of their customers (and brand). The thing that makes e-liquid inexpensive is the economy ingredients that go into it. Like perfume from the bargain basement, anyone who has tried low quality e-juice will admit it doesn't taste or smell as good as quality juice ought to. If you are not sure whether you have purchased budget e-liquid, the smell should be a good enough indicator. If it is pungent, strong, or just downright terrible, it's probably a good idea to toss it.
It could damage your device
Quality matters when selecting e-liquid, but not just for smell and flavour reasons. A poor quality juice is also a risk to your e-cig device which is meant to give you endless hours of reliable service. Bad vape juice could gunk up your coils or even crack your e-cig tank. These types of e-liquids can also erode the lining on your tank, compromising your vape sessions in the process and forcing you back into the market prematurely.
How to Get Quality E-Liquid on a Budget
As much as we are castigating cheap e-liquids, the takeaway here is not to encourage you to blow your budget on expensive juice. No, e-liquid isn't supposed to cost an arm and a leg. In fact, it is possible to find quality products without being extravagant. Anyone who has used AquaVape e-liquids can bear testimony to this. As well, there are ways you can bring your cost of vaping down as we shared in a previous blog post. One of these is by purchasing your e-liquid supplies in bulk. Another is to watch out for e-liquid deals. And other such creative hacks. In closing, if you come across e-liquid prices that look too good to be true, things like quality labelling, satisfaction guarantee, or return policy (all things synonymous with the AquaVape brand), can help you differentiate reputable brands from the fly-by-night outfits.
Share This