Fruit Flavours Rock: These AquaVape Fruit E-Liquids are an Absolute Must-try!
May 23, 2023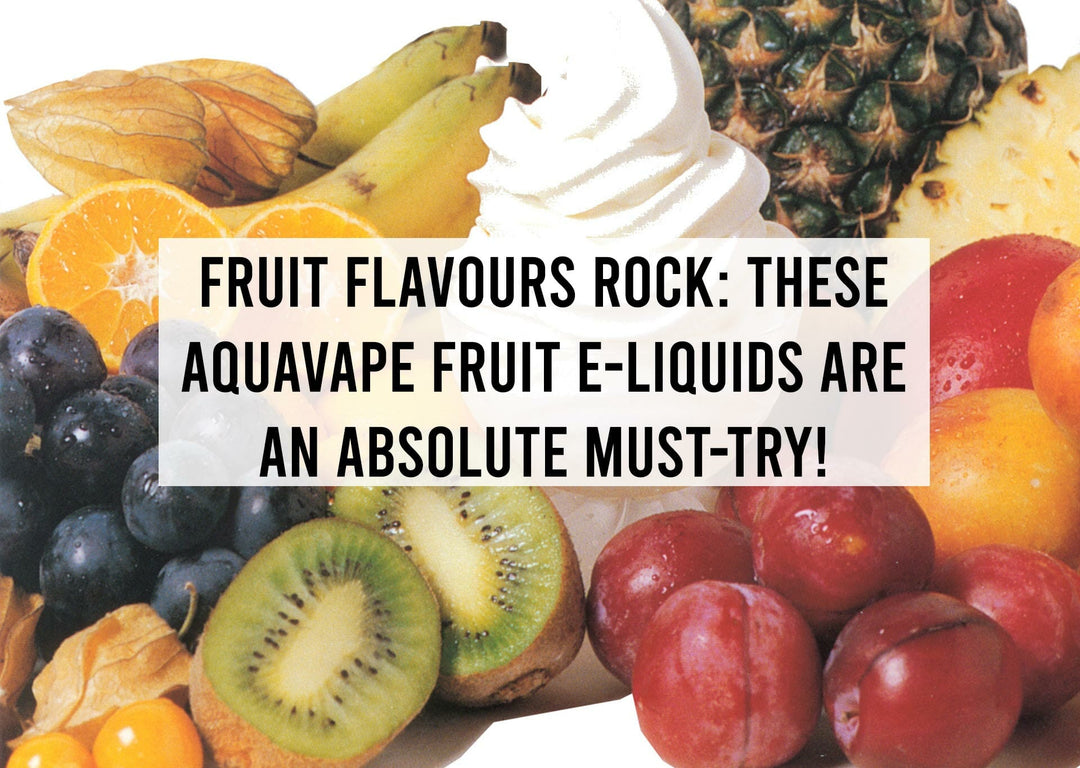 There is nothing like the refreshing taste of fruit on a sweltering day. But no matter the season, we all can agree the taste of a quality fruit-based e-liquid is just unbeatable. That's why this is the most popular e-liquid category of them all. Vapers across the board appreciate the mouth-watering and invigorating taste of fruity e-juice flavours, and the fact that this flavour profile is the most diverse certainly helps. If watermelon isn't your thing, there is always banana to look forward to. If apples don't do it for you, you can always bank on mango to get you there. If the thought of luscious berries gets you up in the morning, you have a good selection to make your pick from – blueberries, strawberries, raspberries, blackcurrant; grapes even. Those who swear by citrus fruit are well catered for, as is anyone with a proclivity for the exotic – kiwi, jackfruit, mangosteen; you will find them all in the expansive fruit flavour profile.
Crazy about Fruit!
At AquaVape, we have a thing for fruit. As do most of our customers, gauging by the numbers when compared to other e-liquids. This is why our fruit catalogue is one of the widest. Some of our offerings are in-house, others courtesy of reputable brands from around the world that we are delighted to partner with. The idea is to let our customers explore their wild and adventurous side as far as their vaping pursuits go, as we believe vaping isn't meant to be a dull sport. That said, we would like to divert your attention to some of our in-house fruit juices that have proved a massive hit since they went on sale. Some, like the Wild Berry, have earned rave reviews online, while others infused with our award-winning Menthol e-liquid have seen AquaVape branded one of the best e-liquid brands in the UK.
Fruity Favourites
Without further ado, here then, are some of our top selling fruit flavours we believe will stimulate even the most jaded tongue.
Mango Exotic E-Liquid
Mango is one of the most highly sought after vape flavours in the market today. Good thing is, there are thousands of mango e-liquids from different brands, each with its own unique twist. In fact, it is possible to try a new mango vape juice each week and probably end up never exhausting the list. Now, a well-executed mango is one that is able to capture the fruity sweetness along with the delectable notes of sour and tart, all synonymous with this famous fruit. The Mango Exotic E-Liquid from AquaVape does just that. And then some. Boasting the real taste of freshly picked mangoes, this 50/50 VG/PG e-juice delivers an unerring mango flavour without any peculiar aftertastes. It is refreshing and packs a nice throat hit, and the purity of its flavour means it is virtually impossible to improve on.
Double Apple E-Liquid
For most apple lovers, either a red or green would do. But the AquaVape Double Apple brings you the most of both worlds, marrying the ripe and sweet taste of red apple and its sugary accent, with the mildly tangy and crisp taste of green apples. The fusion culminates in an explosive taste of the apple fruit in all its glory, which we promise will have your mouth watering one taste bud at a time. The Double Apple is a sub-ohm juice perfect for cloud chasing what with its 80VG 20PG ratio. Available in a 3mg nicotine strength, this bold and clear flavour makes for a perfect all-day vape.
Wild Berry E-Liquid
No AquaVape list of best fruit flavours would be complete without the brand's famed Wild Berry E-Liquid. This is an amalgamation of the freshest berries, bringing together the tart, exotic taste of wild raspberries, with the unmistakable flavour of fresh strawberries, and plump, juicy blueberries, with tangy blackberries rounding out the flavour. This is one of the sublime pleasures of hot season, and we dare say you haven't gone fully fruit until you've sampled this insane combo. One of the best things about the Wild Berry flavour is that it is available in a 50/50 VG/PG mix, making it ideal for regular vaping with just about any vape pen out there. Even better, it caters to vapers of all nicotine strengths, from those who prefer the strongest dose (18mg), to nicotine-free e-juice lovers who are just in it for the ecstasy of flavours on offer.
Notable Mentions
They say if you want to do something right, do it yourself. As fruit e-liquid enthusiasts ourselves, we know what entails a good fruit flavour. This is why if we were to list all fruit e-liquids from the AquaVape stable that hit the mark, this would be a lengthy list. So, to add to the few aforementioned favourites, here are a few more fruit-based e-liquids from yours truly that we encourage you to give a try:
Heizenberry E-Liquid – A fruit flavour perfect for menthol lovers.
Blackcurrant Lemonade – It's not every day you come across the unique fusion of fruity blackcurrants and citrus lemonade. A great choice for confusing your taste buds.
Blueberry Tart – Ah, what's a fruit list without a blueberry juice? This one adds a zesty twist to the rich taste of freshly picked sweet blueberries, culminating in a taste that will delight your taste buds.
We could go on… Bottom line is, once you sample our flavours from the fruit category, you will know the bar has been set.
Share This