E-Cigarettes and Sustainability: How to Become an Eco-Friendly Vaper
May 22, 2023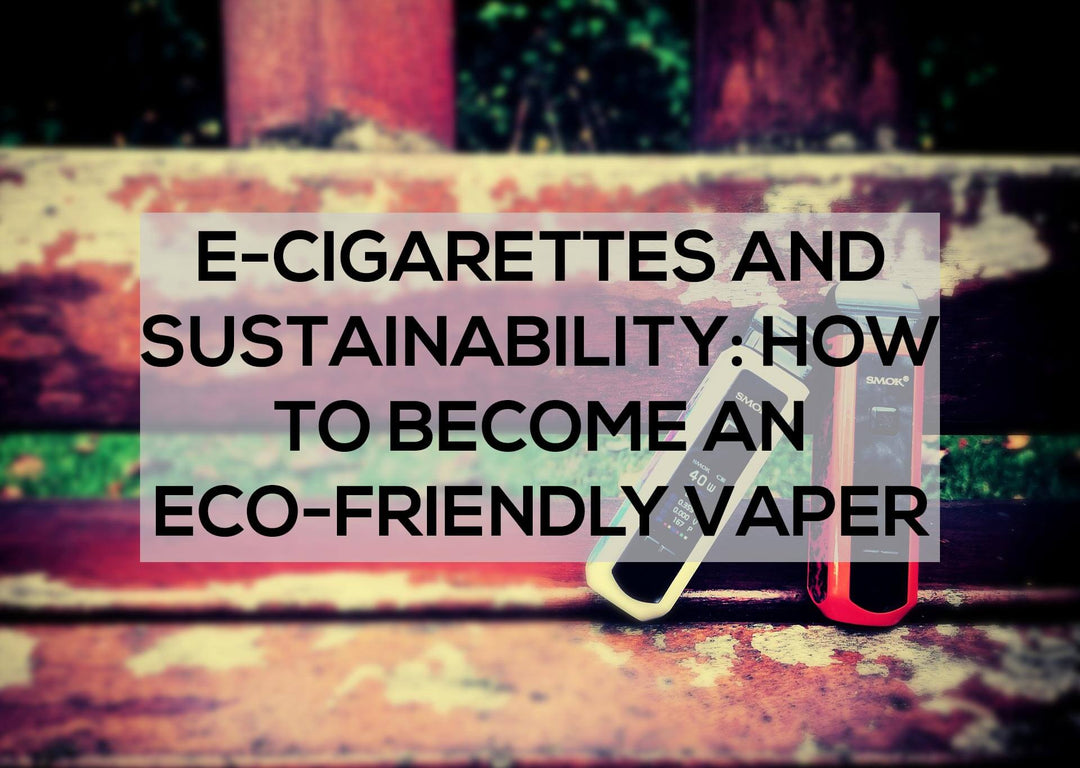 Vaping has its fair share of pros as far as the environment is concerned. For one, it does not contribute to the menace that is the millions of discarded cigarette butts which are a form of non-biodegradable litter. We can also revel in the knowledge that vaping does not aggravate the issue of deforestation and the environmental degradation that comes from tobacco growing. And while we are not categorically saying vapour is completely harmless, the fact that there is none of the toxic-laden second-hand smoke associated with combustible cigarettes being exhaled is something else to smile about. However, vaping is not 100% without its environmental impact. Therefore, while there is much to write home about, it is also nice of us to do what we can towards contributing to a healthier planet while we enjoy our favourite e-liquid flavours, wherever our tastes lie. Here then, are a few simple things we can do to that end.
Recycle your Batteries
Most of the batteries we use in our vape devices are rechargeable but it doesn't mean they are designed to last forever. When they do reach their end of life, instead of discarding them, consider recycling your batteries.
Reduce Single-use Devices
If you are a frequent vaper, opt for refillable vaping devices whenever you can. A lot of single-use or disposable e-cigarettes tend to be closed pod devices (not forgetting the old cig-a-likes). Pods have their advantages, especially for vapers who find nicotine salts better than freebase nicotine. Good thing is, the evolution of the industry has seen the introduction of nicotine salt e-liquids which can be used in refillable devices.
Reduce Carbon Footprint
As an extension of the above point, buying high quality devices from brands with a good track record in favour of cheap offerings reduces the frequency with which you need to make a replacement. While the bigger percentage of vape hardware is made overseas, quality kits guarantee you longer service, meaning you won't need to purchase a vape device every 3 months. This significantly reduces the logistical carbon footprint.
Buy Local E-Liquids
In that same breath, you can also become an eco-friendlier vaper by opting for e-liquids made in the UK. This helps in cutting down on air shipping and contributes to the reduction of overall carbon emissions. In the process, you also get to promote local UK businesses like us who are dedicated to producing top-of-the-line e-liquids that are also in line with the vaping laws of the land, whether you prefer regular e-liquids or their salt-based counterparts. That can only be a win for all parties involved, including the environment!
Safe Disposal and Recycling
I know, some of us are sworn hoarders whose biggest strength is not getting rid of stuff that needs disposing. But sometimes you just need to throw it away, you know, but do so in an environmental-friendly fashion. How do you do that? E-liquids, for instance, can be emptied into an absorbent material such as sawdust or cat litter. Throw it into a bag, ideally compostable, and discard along with your regular waste. Simples. You don't have to be into carpentry or own a cat to get these things, so worry not. Many DIY shops sell sawdust at throw-away prices (Amazon UK even) and cat litter is something you can pick up at most shops (or even online if you prefer the convenience that comes with it). When it comes to hardware, you can reuse compatible tanks, for example, or even donate some of the old equipment you are not using. You'd be amazed by the number of vapers who have a cupboard full of old hardware which is still in good condition! As for your vape juice bottles, every part of the bottles is recyclable – from the bottles, to the lid, to the outer box – so consider recycling via one of the designated plastic recycling facilities. Same case with metal and glass components from your e-cigarette. And with those few simple and practical measures, you can sleep better at night knowing you have done your small bit as a vaper towards reducing your environmental impact.
Share This