Common Vaping FAQs: 7 Commonly Asked Questions about Vaping
May 23, 2023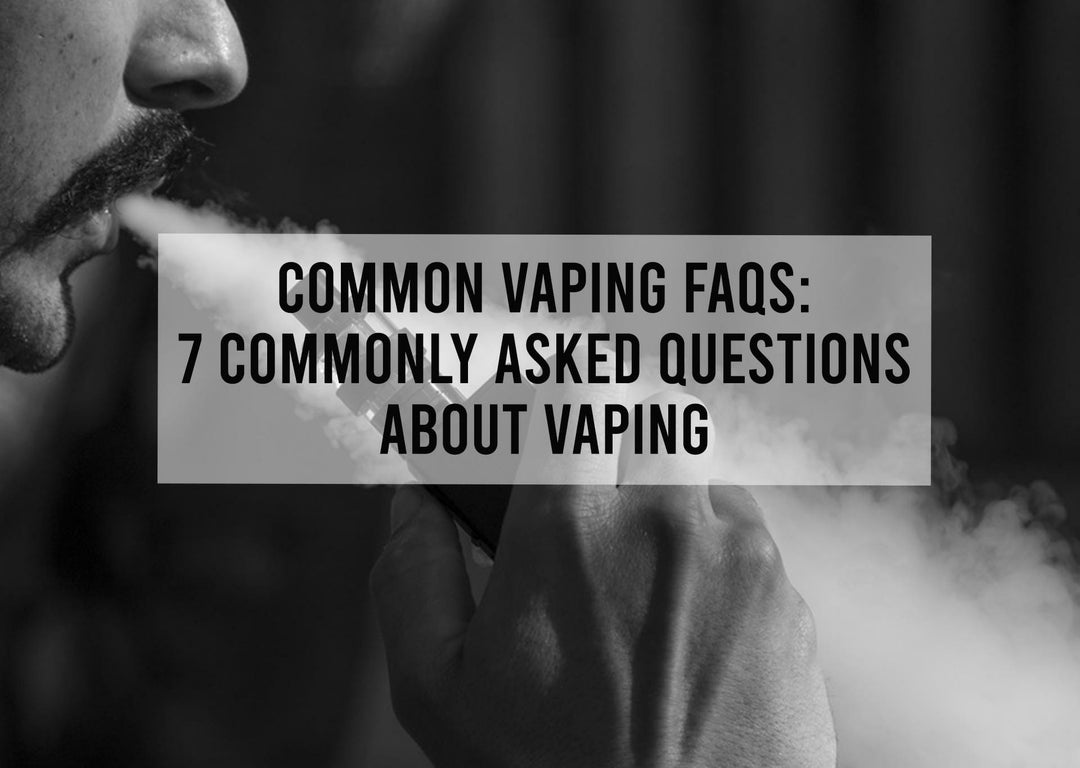 There are lots of questions and misunderstandings surrounding vaping. As a relatively new practice, this is understandable. Actually, it is hard to believe vaping went mainstream only circa 2014, given how rapid and enormous the industry has grown over the last few years. Anyway, that's beside the point. When it comes to vaping, there are questions we hear quite often. We therefore took it upon ourselves to collate them and present them in form of this blog post. Here are some common vaping FAQs we usually come across.
Is Vaping only for People who are Interested in Quitting Cigarettes?
Vaping has been shown to be one of the most effective methods to help smokers quit cigarettes. And while it may have started out as an alternative to smoking, vaping has become a hobby for most people. There are those interested in the delectable e-liquid flavours on offer, and others who are into blowing clouds. Mind you, none of these even necessitate the use of nicotine e-liquid. Matter of fact, a good number of people who vape nowadays are people who were never smokers to begin with. In short, vaping is not addictive like smoking if you opt for nicotine-free e-liquids.
Does E-Liquid contain Dubious Substances?
This is one of the most frequently asked questions about vaping. Typically, e-liquids are made up of a few chief ingredients: propylene glycol (PG), vegetable glycerine (VG), flavouring, and/or nicotine. All these substances are widely considered safe for consumption. Vegetable glycerine is a common ingredient in food, pharmaceutical and cosmetics industry – the one used in vaping is certified organic vegetable glycerine, provided you are sourcing from a reputable vendor. Same thing with propylene glycol which is also used in asthmatic devices to actually aid in breathing and is considered 100% safe to inhale. The benefit of sourcing your e-liquid supplies from reputed vendors like AquaVape is because with the strict enforcement of vaping laws nowadays, only certified manufacturers can officially sell their products.
Is a Vaporiser Expensive to Use and Maintain?
Vape devices are affordable and easy to acquire and maintain. In fact, one of the most suitable devices for non-regular vapers (a vape pen) can set you back as little as £15 for a complete starter kit. The only recurring expenditure next to e-liquids, which themselves go for as little as £4 for a certified 10ml bottle of high quality e-liquid, is the atomiser (lasts 4 to 12 weeks depending on usage) and coils (lasts a week for heavy users). You can read a comparison of the costs involved in vaping and smoking in the UK to get a clearer picture.
Are all Vaporisers the same?
No, vaporisers come in different types. There are the old schools cig-a-likes which resemble tobacco cigarettes and the sleek vape pens (aka personal vaporisers) perfect for most users. We also have vape pods (sleek, compact devices ideal for heavy nicotine users), and the devices used for blowing clouds or sub-ohming (sub ohms or mods).
What are Nicotine Salts?
Nicotine salts are a type of e-liquid known for its excellent nicotine satisfaction. Initially, they were only used in vape pods such as the AV Nano Disposable, but today, you will also find e-liquid made from nicotine salts. The composition of nic salts, as they are popularly known, means they can hold a very high concentration of nicotine but still manage to remain extremely smooth on the inhale. Smokers love them because of their ability to quench nicotine cravings.
Do I Vape E-cigs differently from Regular Cigarettes?
Unlike tobacco cigarettes which largely involve a style of vaping known as mouth-to-lung, vape devices actually are designed to be inhaled in two different techniques. The first is mouth-to-lung – you draw vapour in, hold in the mouth briefly, and then inhale in the lungs. This is used mostly with regular vaporisers. The other method is called direct-lung vaping. It involves inhaling vapour directly to the lungs. This is more commonly used with sub-ohm devices.
Which E-Liquid is Best for me?
The only way to find out is to give it a try and see what flavours you lean more towards and those that don't do it for you. Luckily, we have an article here that should serve as a good guide for you.
Share This