Buying Vape Supplies: 8 Reasons to Choose AquaVape
May 23, 2023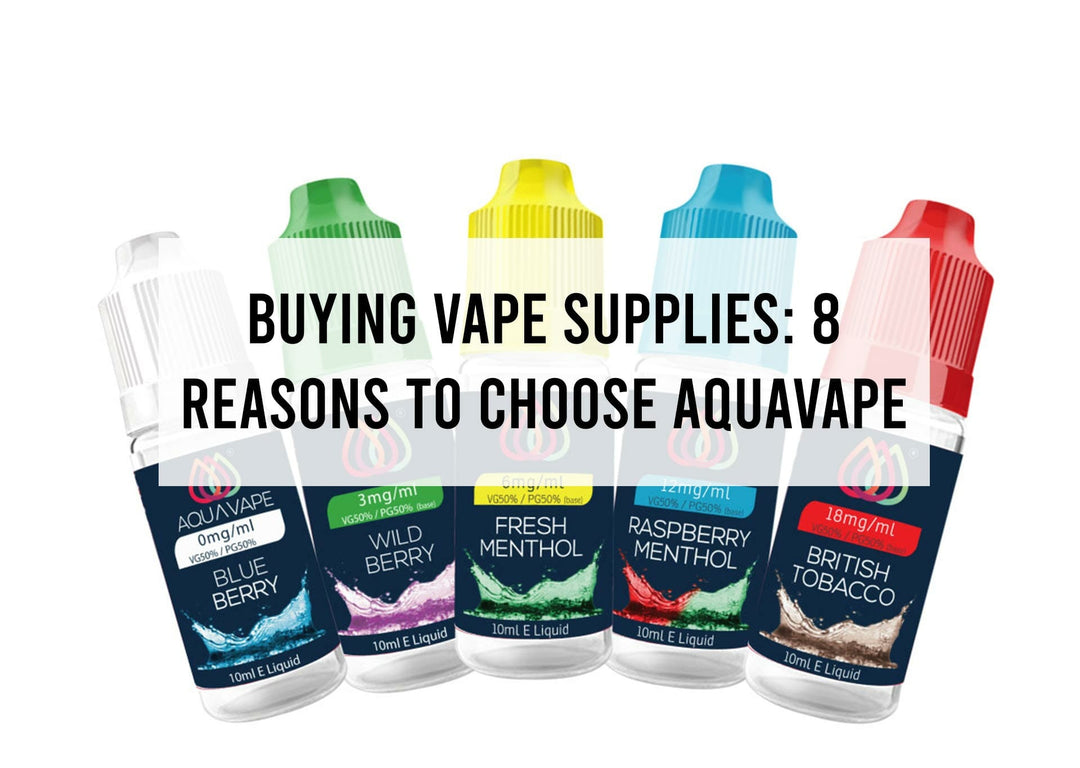 With more vape shops than there are electronic cigarette and e-liquid brands in the market, one might be tempted to ask – Why choose AquaVape? Here's the straight lowdown on why we warrant to be your go-to online vape shop in the UK.
We Pay Attention
From conversations with our customers, one of the constants they keep mentioning is how the kits they receive from us always turn out to be the perfect fit. At AquaVape, we cater to a wide spectrum of vapers and regardless of where you fall into the vaping ladder (from beginner to seasoned pro), you can always be sure that you will find the most befitting vaporiser or e-liquid for your respective needs. We have our ear on the ground too, so we are constantly striving to stay ahead with the offerings we bring you.
Our Customer Service Rocks!
An efficient customer service team makes every company looks good. While our products speak for themselves, the work our customer service team puts in cannot be overlooked, more so when it comes to fulfilling your orders. Fast, meticulous, forthright, and always on call, any issues you may have will be promptly addressed you won't even remember there was an issue! True story.
Our Hardware is on Point
Part of our success as a company has been guided by the need to always be better. You see, as vapers ourselves, we understand first-hand the needs of the ordinary vaper. That is why our inventions are intended to solve the needs of the regular Joe Blow. From easy-to-use vape pens like the AV Series 1, to the AV Series 4 Kit targeted at sub-ohm vapers, not forgetting our very own pod devices, you can bank on us to deliver vape gear that sufficiently addresses your needs, whatever those may be.
We Partner with the Who's-Who
For variety, options are something we love providing our customers with. That is why in addition to AquaVape hardware, we complement our offerings with only the best vape brands in the business. Think Smok, Aspire, Innokin, VooPoo and other global brands. We understand the quality of your vaping experience is as good as the device you're using, and we go all out to ensure you always have a choice of the best in the industry at a single place. The same applies to our e-liquids.
Nothing Like AquaVape E-Liquids
Speaking of e-liquids, anyone who has tried any AquaVape e-liquid will have something nice to say about us. Ask around. Our e-liquids are top of the line when it comes to quality, and this is partly as a result of our partnership with a UK flavouring house that has been in operation for more than a century. Our ingredients are locally sourced and not only pass our stringent quality tests, but also conform to the MHRA standards, or TPD-compliant in vape speak. That is why we have been labelled one of the best e-liquid manufacturers in the UK.
Honesty
We don't make blunders. That means you don't have to put up with say, recurring charges on your bank statements when you transact with us. With AquaVape, you buy only what you want when you need it. Unlike some providers who may lure you with a free sample here or trial there, AquaVape products are superior and you won't get stuck with batches of vape juice at your doorstep that you don't recall placing an order for.
The AquaVape Team
A small and trusted unit, our company comprises individuals with an over-abundance of talents and skills that are always working the magic with regard to how we can provide our customers with the best possible experience in their vaping journey. Whether it's coming up with creative new flavours, pushing the brand, its ideals and products, keeping abreast of tech innovations in the industry, or maintaining our website and store, not to mention keeping our blog fresh, it's a machine that needs each cog on board to run efficiently.
Word of Mouth
You are here probably because you heard about us from someone. We are from the school of thought that strongly believes our customers are our best marketers, that is why we go over and beyond to make sure you are happy and satisfied. You are our best brand ambassadors, and we are proud to be of service to you. Need we say more?
Share This