Buying a Vape Pod Kit: Here are Some Amazing Buys to Consider
May 9, 2023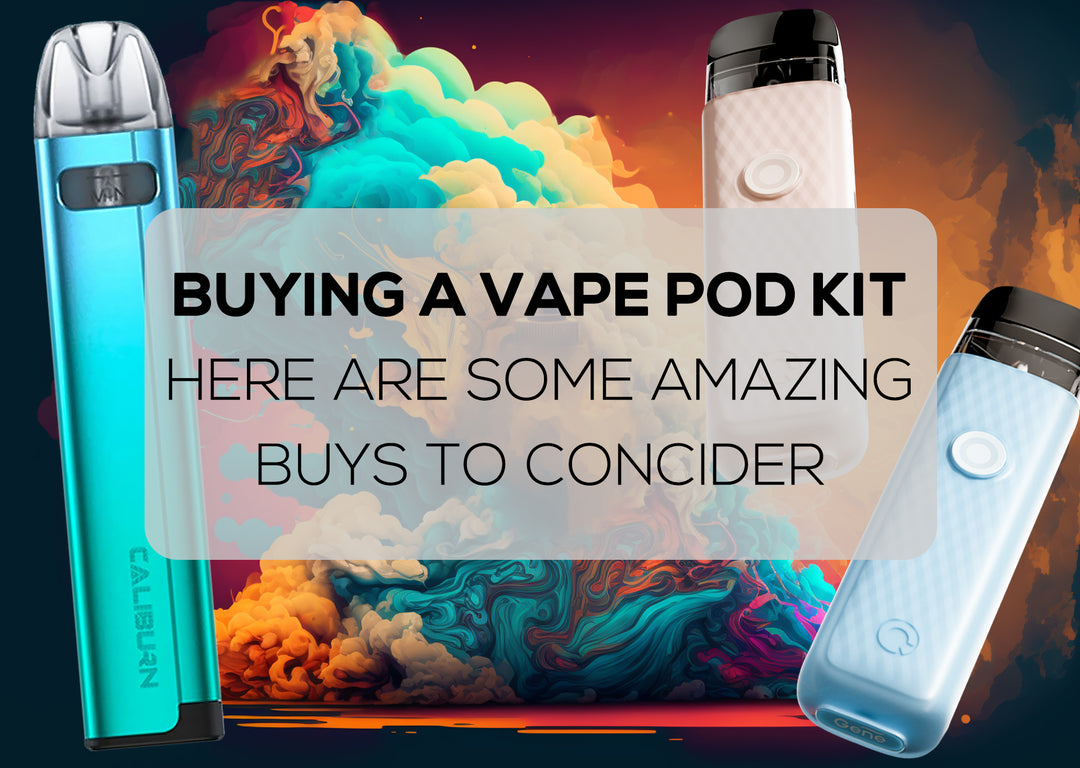 Those who have been using e-cigarettes since the earlier days of vaping will acknowledge the strides the industry has made up until this point, especially on the hardware front.
From the days of the underwhelming cig-a-likes which made an excellent attempt at mimicking regular cigarettes in design but absolutely fell short when it came to the actual experience, to the current era of super-effective pod kits and disposable vapes, it has been a relatively long journey characterised by swift innovations along the way.
Until just a short while ago, the most popular vape devices were vape pens, but pod kits have almost (if not) overtaken them [already].
And it's not difficult to see why.
A short history of pod devices
Pod devices brought a certain convenience never before enjoyed by vapers when they debuted circa 2015 with the introduction of the Juul.
What pod kits also did was introduce the world of vaping to nicotine salts, a then new concept that catapulted vapes closer to traditional cigarettes in terms of nicotine satisfaction; only this time, there was none of those harmful effects that tobacco cigarettes are infamous for.
For smokers in particular, that meant a lot since e-cigarettes had been faulted by some for failing to replicate the cigarette experience they promised.
These two aspects alone revolutionised the vaping industry as we knew it, and it's fair to say the we would not be where we are today were it not for the invention of the pod device.
Pod systems have themselves undergone an evolution since their inception.
Initially, they were only available as closed pod systems. These were not refillable but this would later change with the invention of the open pod system. Originally, the open version was only paired with nicotine salts, but modern-day versions can accept 50/50 e-liquids as well.
Later, pod devices would go on to be used even with sub-ohm juices, a subtle shift that heralded the introduction of pod mods, which are basically pod kits that function as small mods or sub-ohms.
Best vape pod kits to slot into your shopping list
To tie up our history lesson with the best vape pod kits to buy, we will walk you through some of the top pod systems to consider if you are in the market for a new pod device, with the entries below encompassing the different versions of pod devices.
The Caliburn series of pod vapes is a highly regarded kit among pod enthusiasts and truth be told, they don't come much better than the Uwell Caliburn A2S, one of the most popular pod kits in the world.
As a side-note, the name Caliburn itself is derived from the Latin word Caliburnus which means Excalibur. Yes, King Authur's legendary sword. A lot can therefore be expected of the Caliburn line of pod vapes, and the A2S does not disappoint.
The A2S takes built-in mesh coils which means two things. First, the flavour you can expect with this kit is top-notch. Second, maintenance is minimal as the integrated coil system absolves you of the hassle of regular coil change.
Overall, the Caliburn A2S is a very simple pod device to use, yet a top performer at the same time. In fact, in terms of simplicity and performance, it has few equals.
VooPoo is one of the best manufacturers in the pod segment, and some will say there's no one better in the business.
They have a long list of pod kits that could very well stake a claim from top to bottom on this list, but to avoid bias, let's name-drop one representative: the Vinci 3.
The Vinci 3 from VooPoo is the quintessential pod device. It's small in size, it comes with built-in coils that do not need replacing and is designed for MTL vaping, meaning it's ideal for stealth vaping with little vapour production. This is also a super affordable kit.
For vaping newbies (that includes smokers switching) there are few kits better for the money. The VooPoo Vinci 3 is a pod device that gets the job done without overwhelming you with unnecessary nitty-gritties.
When a coil reaches its end of life, all you have to do is remove the pod and plug in a replacement. Replacement pods usually come in a pack of three at a cost that doesn't empty your pockets.
The SMOK RPM C veers from the original pod concept and assumes the features of a larger device albeit compressed in the body of a [bigger] pod kit.
While the typical pod kit is normally a vape-and-go affair, the RPM C from SMOKtech aims to give you more control over your vape. Think of it as a device that offers you the functionality of a pod system with the customisability of a sub-ohm. All this is packaged in one of the most elegant bodies you'll see in a pod kit, complete with leather accents.
The SMOK RPM C packs a battery with a capacity to rival even regular vaporisers.
But at 1650mAh, this was meant to be a pod mod – a mod in a pod kit's body. It features an intuitive menu system accessible through a clear screen and navigation buttons.
This is an adjustable airflow pod kit that's perfect for anyone who desires a smaller device capable of playing the role of a mod or sub-ohm device. Cloud production is spectacular – especially when paired with a good sub-ohm juice – and the SMOK RPM C is big on flavour too, thanks to its reliance on mesh coils.
Weighing a paltry 36g, the Uwell Caliburn 2 is a lightweight device that boasts sleek looks, with the front and back of the kit featuring clear windows that shows you the level of the juice you have left in the tank.
Despite the miniature size, this mean little guy packs a 750mAh battery which only takes 25 minutes to get to full charge.
You'll know the battery is running low through a haptic feedback mechanism which also vibrates when the device short-circuits, is plugged in for charging, or when a pod is inserted; among a host of other things.
The Uwell Caliburn relies on UN2 mesh coils (a 1.2-Ohm Caliburn G2 which comes pre-installed and a 0.8-Ohm Caliburn G coil), a range of coils known for their ability to make flavours pop. In fact, that's one of the things the Caliburn G2 is famed for: its epic flavour delivery.
Cloud production is decent too, but not over the top even with the sub-ohm coil.
Yes, this is a replaceable coil pod system, and in total, it offers three coil options (including 1.0 option) to suit different moods or preferences. It also features adjustable airflow to provide more versatility, and the tweak can be done through the G2's unique adjustable wheel.
While the target for the Caliburn G2 is vapers at a more advanced stage, it's perfect for new users as well due to its simplicity and fool-proof build. Smokers shifting to vaping should not pass it up either.
Share This