Buying a Vape Pen: Best Vape Pens to Add to Your Collection
May 9, 2023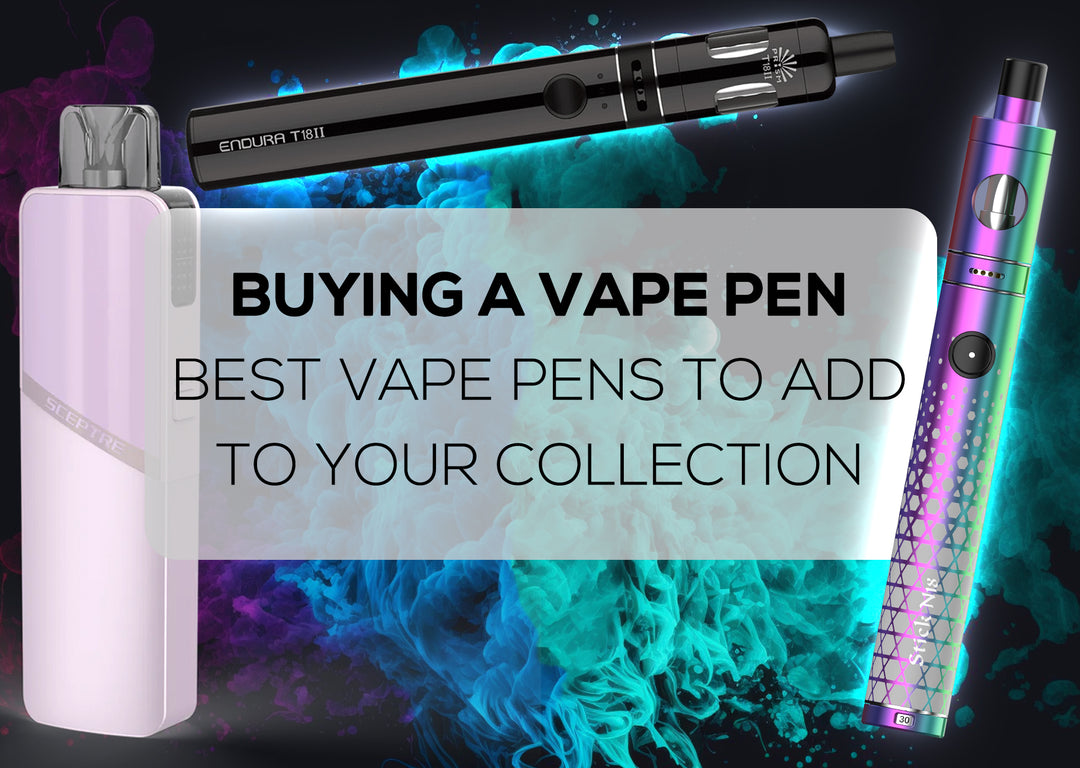 Best Vape Pens To Add To Your Collection
Shopping for a vape device can be a tricky proposition, especially if you're relatively new to vaping or it's your first time at the races. For smokers planning to make the transition into vaping, it can be particularly exasperating. That's because unlike cigarettes which pretty much come as a standard package, there are a number of things to put into consideration when choosing a vape kit. The good news is that the market has made it easier for beginners to find an apt fit by introducing vape starter kits, which are basically kits targeted at new vapers. Now, vape pens are one of four categories of vape devices available to users. The others include:
Vape pods – compact little devices that have quickly become the most popular vape devices. They are loved for their convenience and ability to replicate the feel of a traditional cigarette due to their reliance on nicotine salts (at least the original versions). These are the devices that introduced the world to nic salts.
Disposable vapes – they are an iteration of pod systems which are available for use out-of-the-box without need for setup. The latest type of vape hardware in the market, disposables are non-rechargeable and cannot be refilled.
Mods or sub ohms – these are advanced equipment used for sub ohming (or cloud vaping). They are more suited for more experienced users.
Vape pens used to be the most popular type of e-cig device. However, while the competition from pods has come in hot and heavy in the last year or two, this is a device you'll still find with the large majority of vapers. They make for a cheaper form of vaping and do not restrict you in terms of flavour options, as long as you're pairing them with regular e-liquid. The thing about vape pens, though, is that – barring pod kits – this is the most diverse category of vape devices. That means choosing an ideal kit for self can be daunting if you are not sure what you're in the market for. While starter kits make your work easier, it doesn't automatically mean they are the pick of the bunch. We rounded up a few of the top contenders for best all-round vape pens out there, looking at factors like:
Performance
Reliability
Style
User-friendliness
Battery capacity
Cost
And here are the names that made the cut.
Innokin Endura T18II
The Endura series of vape kits from Innokin carries some of the most well-regarded devices in the industry. Designed with maximum ease of use in mind without compromising on performance, the Innokin Endura T18II is a single-button-operation device that provides immediate satisfaction with the most minimum of hassle. Sleek, with a stainless steel shell and boasting eye-catching aesthetics, this pen has a premium feel to it, although it's not a case of beauty without brains. Quite on the contrary actually. This is a vaporiser that gets the job done and can be relied upon for vape enjoyment all day long when you factor in the 1300mAh battery it packs. While some may prefer to take a pod with them when venturing outdoors, the Innokin Endura T18II is portable enough to carry with you, especially if you want to get the most out of your e-liquid flavours. It is powered by the T18 Prism 1.5-Ohm coil known for its ability to unlock flavour character while delivering satisfying throat hits at the simple click of a button. Vape pens come and go, but the Endura series has withstood the test of time thanks to offerings like this. As far as vape pens go, you will struggle to find a better device all things considered, and it's little surprise the T18II is a favourite for vapers across the board, from beginners to users at a more advanced stage. The Innokin Endura T20S is a good alternative to consider.
SMOK Stick N18
SMOK is one of the most recognisable names in the game, thanks to their long illustrious history of producing quality kits that run the gamut – from vape pens, to vape pods, mods, and even disposables (headlined by the ultra-popular SMOK MBAR). The SMOK Stick N18 comes with a 1300mAh battery and is a device that doubles up as both a regular vaporiser and sub-ohm kit. That's because it can pair well with both a 1.4-Ohm and 0.6-Ohm coils which the original package comes bundled with. If you are a beginner, the latter may be a bit of an overkill, which is why we recommend the regular 1.4-Ohm coil. This versatility is one of the reasons the SMOK Stick N18 makes for a great choice of vape pen for both new and experienced vapers. That's particularly when you consider it has five different levels of power output ranging between 9-30W, essentially making this a variable wattage vape pen. You don't get many like those.
FreemaX Twister Kit 30W
FreemaX may not be a trademark name like some of the brands we've mentioned here, but the relatively new vape manufacturer has not taken long to make their mark among the vape faithful. In a cut-throat space as this, that takes some doing, but it's not hard to see with releases such as the FreemaX Twister 30W Kit. The Twister 30W Kit is not your standard vape pen. This is another kit suited for both MTL vaping (what vape pens give you) and DTL vaping (what you get with sub-ohm devices). This is why the original package comes with both a 1.5-Ohm and 0.5-Ohm Mesh coils. As a newbie, we would suggest to start with the 1.5-Ohm coil, even though it's the DTL coil that is pre-installed. It may sound like a bit of a hassle, but what you will love about investing in this 1400mAh-battery kit is that it's basically a two-in-one, so it will give you some bit of service before you can think of getting a replacement. That aside, you will appreciate its leak-proof mechanism as a beginner (a common pain point for most newbies). The FreemaX Twister 30W Kit also boasts a no-frills design without unnecessary bells and whistles you may not need at this point. You will also love the perfectly-working wattage dial, not to mention its multiple airflow adjustment options which make it possible to easily tweak the vape according to your personal preferences.
Innokin Sceptre
This is another vape pen designed to grow with you. The Innokin Sceptre comes with a 1.2-Ohm coil for regular vaping and a 0.5-Ohm version for DTL style vaping. You will likely not need the latter for a while, but it's worth knowing that the Sceptre's intelligent chipset technology makes for hassle-free coil switching as it automatically sets the wattage for you depending on which coil you've plugged in. This is a sleek pen with a compact frame that houses a respectable 1400mAh battery, with a neat single-button design that allows for seamless switching between button-activated and automatic draw modes. You can also get more heat and vapour by activating the e-cig's Boost Mode, with little concern about overheating as the device epitomises the manufacturer's strong commitment to safety and quality. The Innokin Sceptre has a host of security features against short-circuiting, overheating and discharging. More than that, you'll also find useful the series of LED features which communicate important information such as the e-cig's battery, activity and operation mode status.
Regardless of the choice you decide to invest in, you will absolutely love what each of these kits brings to the table.
Share This