Buying a Disposable Vape: What are Some Models You Would Recommend?
May 10, 2023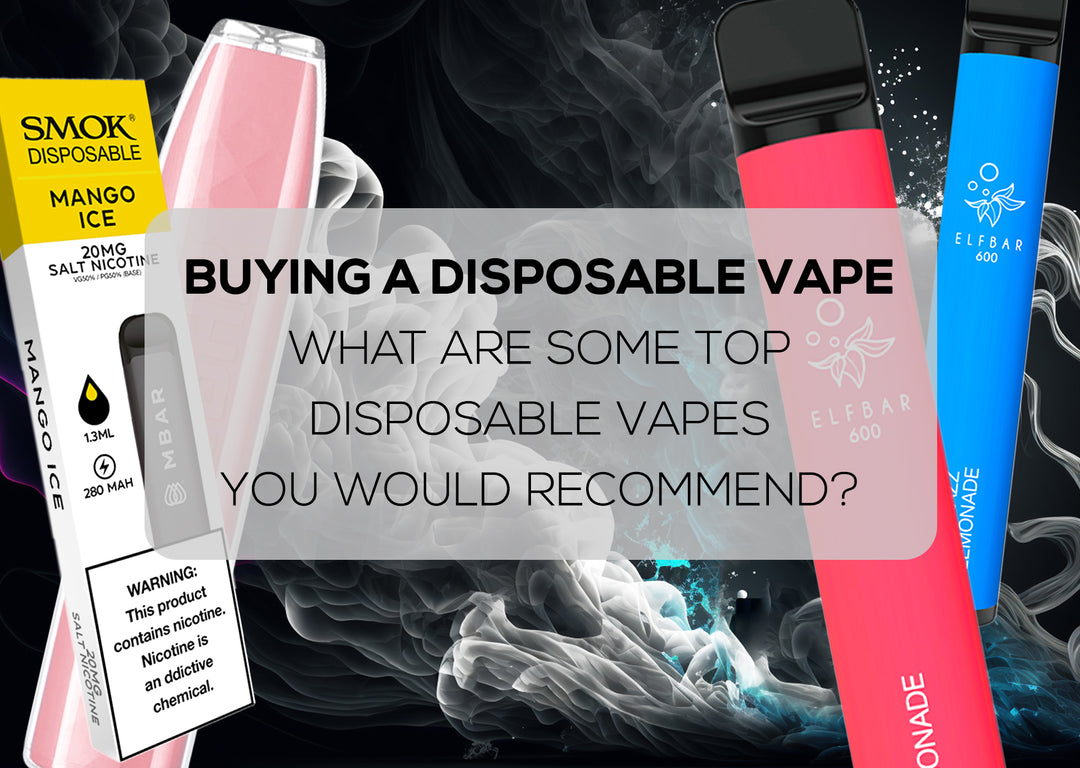 Looking for a disposable vape, huh? You're not alone. Disposable vapes made their entry into the market just the other day, but they have caught on like wild fire. Promising incredible flavour, big hits and generous clouds, they are a complete package and it's not hard to see why they've become an overnight sensation. Before we give you some recommends, it's important to first understand what these devices entail and the strengths and downsides you can expect by opting for this type of vape.
What are disposable vapes?
If you've suddenly just started seeing disposable vapes everywhere, it's not because you've been living under a rock in some far-away galaxy. These devices are fairly new in the market and only emerged circa 2020, but it wasn't until the year 2021 that they took off like a rocket. This is an entirely new category of e-cigarettes that, while similar in some aspects, is independent of pod devices. Small in size like pod kits, disposable vapes come with a pre-charged battery and pre-filled with vape juice. They do not involve any initial set-up and are ready to use as-is. They cannot be refilled and typically do not require charging either (although some newer models like the Lost Mary line from Elf Bar has a port for recharging), making them the most convenient type of e-cig device available. Importantly, and this is where they derive their name, these e-cigs are meant to be disposed of when finished. There are no replacement pods to plug in, and they come with a tank but it is non-refillable. Pretty straightforward, right? They are. They are devices that require no learning curve at all and are therefore perfect for vape beginners or smokers wishing to switch to vaping. Indeed, while disposable vapes are famed for their ability to bring the best out of flavours (with most models boasting a slew of flavour choices at that), it is the fact that they utilise nicotine salts that has endeared them to nicotine vapers. Nic salts are known for their ability to hit the spot, and disposable vapes do that quite well while at the same time allowing individual flavours to shine. However, these eye-catching little kits are not just a preserve of nicotine users as they also come in zero-nicotine variants, making them suitable for users across the board.
Pros of disposable vapes
Here are some of the advantages associated with disposable vapes.
Zero work involved – these are the simplest form of e-cig devices to use. There are no settings, no buttons and no maintenance drills like refilling or wicking. Simply unbox the device, remove the rubber stoppers and go on about your business.
High nicotine content – disposable vapes run on nicotine salts in the range of 10-20mg (some contain higher amounts) therefore provide a similar hit to regular cigarettes. This borrows from the Juul which was the first device to debut salt nics. However, there are also non-nicotine variants, so everyone is well-taken care of.
Choice of flavours – individual disposable vape models come in a long list of flavours which ensures there is no room for flavour fatigue or monotony. This is needed considering no refill or pod replacement is possible.
Cheap – disposable vapes are not expensive at all. However, the costs can quickly rack up if this is your primary go-to device, more so when you compare them to refillable e-cigs like vape pens.
Cons of disposable vapes
Environmental impact – the most obvious downside attributed to disposable vapes is their huge impact on the environment due to their completely disposable nature. There are no recyclable models yet, likely because the cost of production would be high and the RRP would make them uncompetitive compared to regular disposable vapes.
Long-term costs – While the initial outlay for the consumer may not seem like much, these e-cigs do not make for the most cost-effective form of vaping in the long-term.
No customisation.
Shorter product lifespan.
Top Disposable Vapes to Consider
The disposable market may be new, but there are so many devices competing for your attention as brands jostle to gain a foothold in this highly lucrative segment. That can only be a good thing for the consumer, only that too many options can also make it a challenge to find a good fit. Not to worry, here are some of the top disposable vapes you should be looking at if you're in the market for one.
Geek Bar
Geekvape is one of the stand-out names in the disposable vapes segment, and they have a cracking little disposable in the name of Geek Bar. With a 2ml pre-filled juice capacity and packing 20mg of nicotine salt, this is one of the best and most popular disposable vapes in the UK market. The Geek Bar comes in a diverse range of flavours to cater to every taste, but what else has made this device uber-popular is its quality and reliability – something that has made the Geek Bar something of an industry benchmark. It is kitted with a 500mAh battery and the vape promises approximately 575 puffs. To ensure you're getting an authentic Geek Bar, get yours from a credible licensed brand like Aquavape.
Elf Bar
If you encounter a disposable vape user in the UK, there's a fat chance they could be using an Elf Bar. The array of delicious flavours aside, another reason behind the wild popularity of Elf Bars is the fact that they are available in different models:
Elf Bar Standard
Elf Bar NC600 – 400mAh battery
Elf Bar Lost Mary – one of the few disposable vapes that offers recharging
Both the Standard and Lost Mary disposable vapes are equipped with a respectable 550mAh battery which is enough to extract approximately 600 puffs. You can choose between 10mg and 20mg of nicotine salts, but there is a zero-nicotine variant available with every flavour as well. Elf Bars also come in a cig-a-like model, the Elf Bar Cigalike, if you desire something that mirrors a regular cigarette in design.
Elf Bar BC5000
The Elf Bar BC5000 puts most disposable vapes in the market to shame with its capabilities. Then again, this is a whole different level and a trajectory we should expect to see disposable vapes across the board begin to take going forward. With a 650mAh battery, it can serve up to 5000 puffs. It is a close cousin to the Lost Mary in design, complete with a small Type-C charging port on the side. Despite the small size, the Elf Bar BC5000 continues to break the disposable vape rules by offering a whopping 13ml of pre-filled juice that is offered in 15 different flavours. Like all disposable vapes, though, it cannot be refilled. Alternative mega-disposable vape to consider:
Vaporlax Draco
(16ml/6500 puffs).
Elux Pro 600
The Elux Pro 600 is not much different from the aforementioned disposable vapes on this list in that it comes with a 550mAh battery, gives about 600 puffs, and is pre-filled with 2ml of nic salt e-liquid. But what you'll love about the
Elux Pro 600
is that it's a kit big on exotic flavours like sour blue raspberry and passion fruit. It is perfect if you desire a slimmer disposable vape that gets the job done without any questions asked.
Pukka Bar
The Pukka Bar hasn't done much to differentiate itself from the other entries on this list, but it provides an excellent choice for when you want something different (at least in terms of flavour). It has a 2ml capacity filled with a list of some of the most delicious flavours in the industry, including Mixed Berries, Tropical Fruits, Pink Lemonade and Spearmint Gum – in addition to four others, bringing the total to eight.
Have you tried any of these little guys yet?
Share This