AquaVape Online Vape Shop: Always Open. Always There
May 23, 2023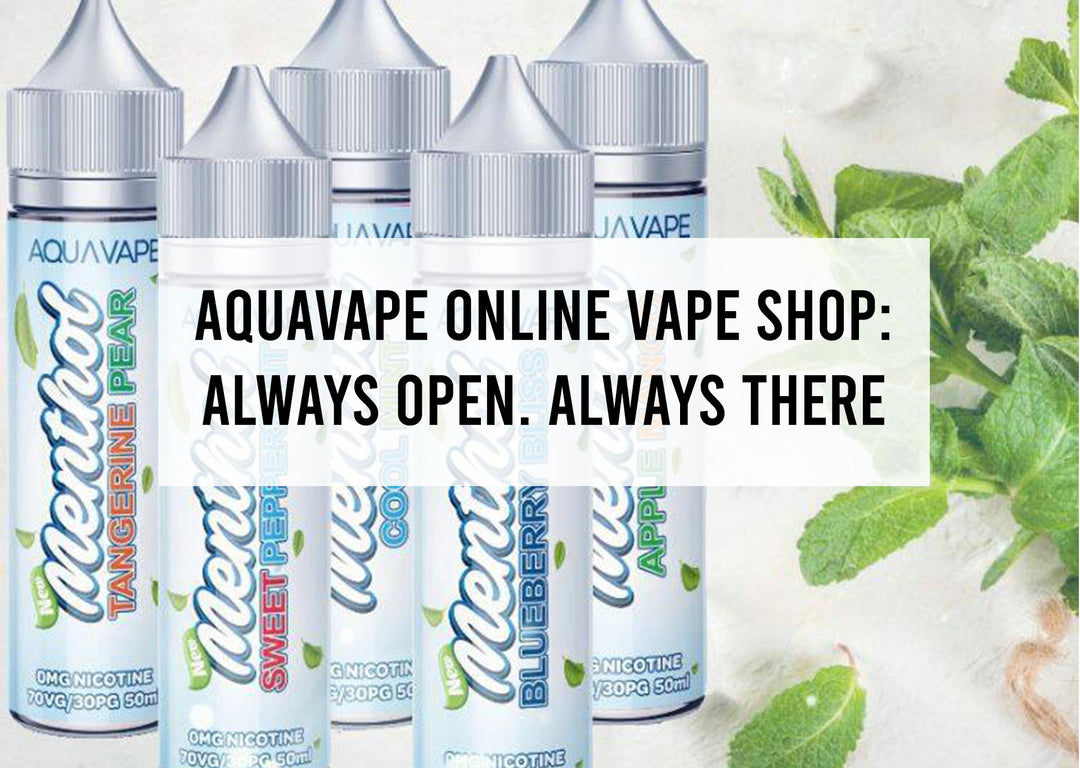 At the time of publishing this article, humanity finds itself embroiled deep in circumstances it has not faced in more than a century. For the sake of ourselves and everyone else, people around the world have been asked to stay at home and limit movement in the wake of the Covid-19 pandemic. Schools have been closed, as have parks and restaurants, not to mention many other establishments. These include gyms and fitness centres, places of worship, pubs and bars, and many other businesses considered 'non-essential'. Many people are familiarising themselves with the idea of working from home. And for those whose work-life balance was a tricky seesaw affair, the weight is now firmly shifted to the home front, so no excuses now! Just the other day, the order was extended to close all brick-and-mortar vaping shops in the UK, affecting many vapers across the country. As it is, more and more people are now turning to online shopping than ever before, and vapers too have no option but to purchase their supplies from online vape stores like ours. While you will find our vape products at various select stores across the country, at AquaVape, our operations are online-based for the most part. This means we are very much open and continue to serve our loyal customers in the midst of the novel coronavirus, as well as welcoming a large contingent of new shoppers who are exploring their best options. We are here for you and as is custom, we will do our best day-in day-out to ensure you not only find your favourite products in our store, but also ensure your orders are fulfilled on time given the circumstances. 
Shopping for Vape Flavours Online
The silver lining in the dark cloud is that there are several benefits to purchasing your vape flavours online. For starters, there is the obvious convenience that comes with online shopping. You don't need to risk your health and that of your loved ones as we will deliver your vape supplies without having you leave your house. For specialised online stores like us, we understand variety is the name of the game. This is why we aim to provide our customers with a wide selection of flavours and vape devices to suit both their needs and preferences. If you have been restricting yourself to a few flavours, now is probably a good time to experiment with different tastes as we have a flavour for every vaper and occasion. Here's How to Find Vape Flavours you'll most Enjoy The upside is that the warm season is here so anything should fly. Another benefit you stand to gain by shopping with us is the attractive prices on offer. Unlike brick-and-mortar vape shops, our products are generally more reasonably priced. We invite you to explore the store and see for yourself! See 8 Reasons to Choose AquaVape as your Go-to Online Vape Shop That doesn't mean we compromise on quality. Quite on the contrary really. We have a strong zero-tolerance policy on quality, which is why some of our e-liquids have been voted the best e-liquids in the UK. What's more, we always throw our customers a deal every so often, so don't forget to keep checking out what we got for you in our E-Juice Clearance section for the best deals around.
Always Here for You
We are always open and you can place your order any time. Whether you are in the market for quality e-liquids or looking for new vaping hardware, including vape pods, you can bank on AquaVape to deliver in the midst of the crisis and long after normal service resumes.
Share This