Vape Pens vs Vape Mods: Choosing your Perfect Fit
May 22, 2023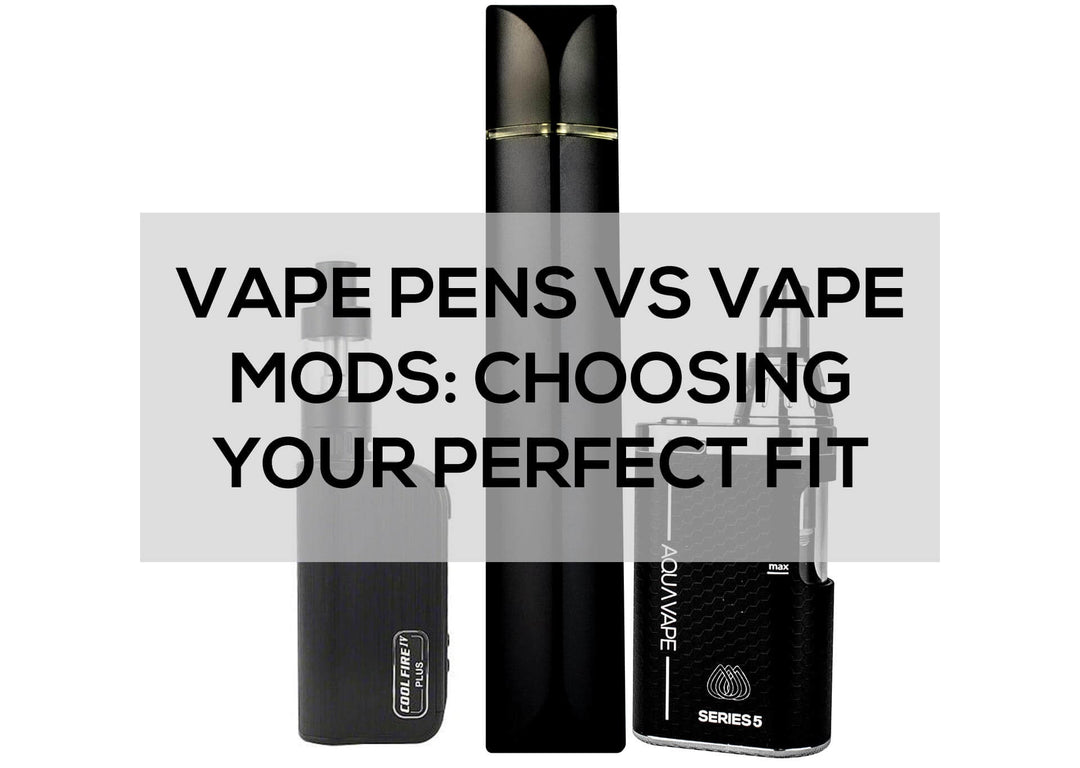 Vape Pens vs Vape Mods: Choosing your Perfect Fit
Vaping is a thriving industry that has burgeoned over the years with regard to the options available to you as a vaper, whether we are talking hardware, e-liquid, accessories, or options when it comes to companies and brands. As in every other industry, the wealth of options on all aspects can only be good news for consumers – not to mention the vibrancy of the industry itself. On the flipside, though, the different variables available to customers pose a challenge when it comes down to choosing the most suitable gear. In other words, the slew of hardware options available can make the buying decision a task in itself. That's because finding the perfect device from the sea of offerings out there involves ruminating not just over your personal needs, but also all the aspects that are going to affect your usage. A lot of the time, that decision involves making a decision between vape pens and vape mods, the two most common types of vape devices. Let's quickly walk you through the differences between the two to put you in a better position to make a more informed decision.
What you need to know about Vape Pens
As the name suggests, vape pens are a type of e-cigarette that resembles a pen; only in this case, it is beefier, sleeker, and more eye-catching. Also traditionally known as personal vaporisers, this type of device is ideal for regular vaping (as opposed to sub-ohming) and the device most of us are likely to start our vaping journey with. It is the most diverse category of e-cigarette on the market and is available in models suited for both beginner vapers and seasoned pros. Vape pens boast a decent battery life capable of seeing you through a full day, although this is dependent on the type of pen you invest in and your frequency of use. They come with refillable tanks rendering them cost efficient – FYI, the tank capacity in the UK is limited to 2ml. Vape pens make use of regular vape juice (think any e-liquid with not more than 50% VG (vegetable glycerine)) as anything higher (60VG onwards) is rendered a sub-ohm e-liquid. Personal vaporisers are low-powered devices so are not the go-to device for anyone interested in cloud chasing. However, the vast majority of vapers will find them ideal for their vaping needs, especially as regards nicotine satisfaction capabilities and flavour delivery.
What you need to know about Vape Mods
Vape mods are another category of e-cigarettes more suited for experienced vapers. They are larger than vape pens, more powerful, and deliver stronger hits, although not as common. Vape mods are used for what is known as sub-ohm vaping, which is basically vaping not for the nicotine, but more for the vapour. This is why they are best paired with VG-based juices (anything above 60% VG), as opposed to PG-based juices, for this type of juice is more ideal for producing huge clouds. Mods are high-powered devices that make use of low-resistance coils (less than 1.0 Ohms) and come in two major types – unregulated mods (for example, mechanical mods) and the more modern regulated kind (for example, box mods). The style of vaping used in these devices is known as direct-lung (DL) vaping, which involves inhaling the vapour directly into the lungs. By comparison, most vape pens are designed for mouth-to-lung (MTL) which is similar to the inhalation technique used on conventional cigarettes – draw the vapour in, hold it briefly in the mouth, before inhaling into the lungs. Due to their bulkier size, mods are not the perfect everyday carry especially when venturing outdoors.
Last Word
When searching for the most ideal fit for you, you need to consider your vaping habits and what you want in a vaporiser. If you are a first-time vaper, the vape pen is the more apt choice. If you are more interested in the clouds, the vape mod is the go-to device. However, we do not recommend taking a dive into the deep end if it's your first outing. If you intend to grab a mod, at least ease your way into vaping first. That's because for anyone who has never driven on the highway before, it makes more sense to go out in a normal car first, before upgrading to a truck. Well, you get the idea… 
Share This