Checking your Pod Mod Battery Connections for E-Liquid Gunk
May 22, 2023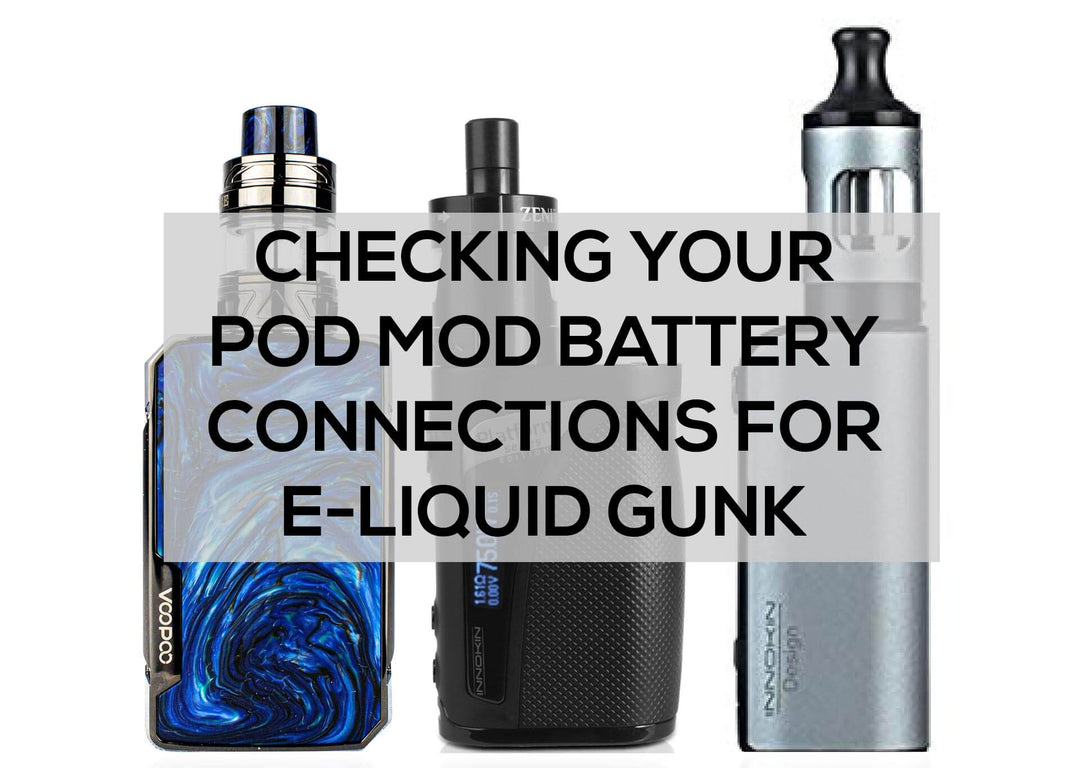 A lot of people are guilty of overlooking a very important aspect of their vape setup: the battery. Which is unfortunate really. Without good batteries, you will be short-changing yourself as your vape sessions won't be as satisfying as they should be. Lack of proper care for batteries will cause them to deteriorate, becoming weak over time. This will result in hits that don't just do it for you as far as throat hit and flavour go. If you own a pod mod that makes use of a separate battery, we can't stress enough how important caring for the battery is. Battery care doesn't entail much. The simple act of checking the battery connections for e-liquid gunk and cleaning it up every once in a while can go a long way towards improving your vape experience while extending the life of your battery at the same time. You see, the more we vape, the more salt nics form into gunk that can interfere with every component of our vaporiser (lkest you forget, pod mods are mostly designed for use with nicotine salt e-liquid). Good thing is, this is an issue that takes little effort (and zero money) to diagnose and resolve. Here then, is how you can go about clearing your battery connections of this solid dirt that is bound to build up over time. The caveat here is that this only works in the case of open pod systems that come with a detachable battery. Read more on Open vs. Closed Pod Systems
Step 1: Disassemble the device and examine each connection meticulously.
Step 2: If you encounter a layer of dark-coloured film on any of the connections, it means e-liquid sieved through and has since hardened and become sticky from the heat exposure.
Step 3: To get rid of this dirt, you will need a cotton bud and some alcohol. Dip the Q-tip in some alcohol and use it to wipe the connections gently. Go easy on it as applying more pressure than necessary can push down the connections, which can make the pod mod lose its ability to connect to the battery.
Tips to Prevent E-Liquid Gunk Build-up
There are a few basic maintenance practices you can put into practice to prevent the build-up of e-liquid gunk on your battery connections.
Tip 1: As you are probably very much aware, e-cig maintenance is an important aspect of vaping. That doesn't change just because you are using a pod mod and not its bigger cousins. That is why if you own an open pod system, it is recommended to clean your battery connections each week as we have just described above.
Tip 2: Always ensure your pod cartridge is secure and that the coil you are using is fresh. An unsecure cartridge is more likely to leak. Likewise, coils that are well past their due date can leak juice all over your gear, causing it to seep into the battery connections.
Tip 3: If you can, opt for salt nic e-liquids with a mixed PG/VG ratio. VG-based e-liquids are more likely to result in gunk build-up; so are fruity juices or e-liquids with more sugar in them as they tend to crystallise more.
Last Word
If you find your pod mod isn't performing as it used to with respect to throat hit and flavour, there is a good chance e-liquid gunk is the culprit; particularly if you haven't cleaned up your unit recently. On the bright side, this is a fairly easy issue to resolve and prevent.
Share This